Quick Summary
Dogs of Elon is a crypto and NFT project that connects several meme communities. The project also has its own game, DAO and it continues to be very active.
Meme coins are probably the most volatile cryptocurrencies of all as they can rise by 100x but also fall by 90% later on. These cycles repeat on a regular basis and that's why it's important to choose the projects with real plans, utilities, and a team that keeps working on the project. And you should also know when to buy. Let's have a look at one meme coin that has a 100x potential in the next months/years.
related blog: Is This The Next 100x Metaverse Utility Token?
What is Dogs of Elon (DoE)?
Dogs of Elon is a cryptocurrency and NFT project that aims to connect various meme communities together. DoE is more than just a meme token. A cornerstone of the project is their innovative play-to-earn (P2E) gaming platform. Guided by Dogs of Elon NFTs, they are creating an addictive and fun gaming experience that employs the NFT collection and the DOE token at the same time. There are currently two different and unique games being developed and tested by the team.
This project is proud to be the center of the meme coins' community. One of the DOE's goals is to create an ecosystem that empowers its token hodlers through decentralized governance. With a DAO (decentralized autonomous organization) established, they seek to engage the community's participation in key decision-making for the project. The DAO provides the opportunity for complete decentralization of the project, through multiple phases to ensure the safety and security of the tokenomics.
DoE NFT Collection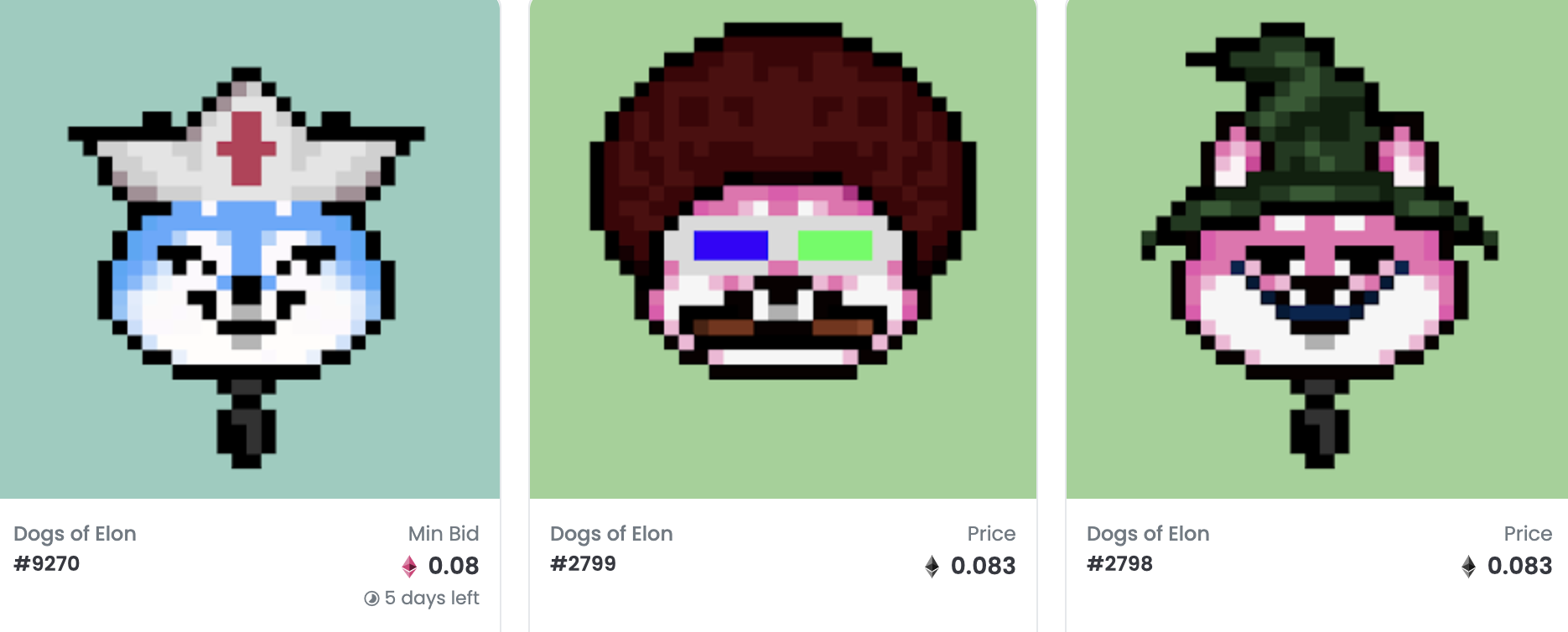 The project's founders have created their own DAO and game but they don't stop there. Dogs of Elon NFTs are a passion of the project's creators who wanted to create a similar collection to Crypto Punks, but representing their project. That's how they also got into NFTs.
"We have all witnessed the power of the meme coin community and its strength which has universally defied experts. In celebration of this, we have created just under 10,000 unique NFTs featuring everybody's favorite K-9. Containing special sub-collections with 30 Elons and 70 zombies Doges as well as Alien Doges too!"
There are thousands of DoE NFT owners and there has been a significant trading volume of almost 300 Ethereum (ETH) on Opensea. The floor price for 1 DoE NFT is 0.035 ETH at the time of writing.
Token Information (DOE)
DOE had a very successful launch at the beginning of November, however, that was the peak of the whole crypto market and price declined rapidly since then. Nevertheless, the token still has a $5.5 million market cap and almost 1.5 million people have DOE in their watchlist. Although the meme coin is down a lot, there is still a notable trading volume.
There is a maximal supply of 1,000,000,000 tokens and a total supply of 940,000,000, while 19% of this supply is circulating. DOE is available for trading on a number of well known centralized and decentralized exchanges, such as Uniswap, Gate, MEXC, Poloniex, etc. The comeback of the bull market in the crypto or any other CEX/DEX listings of DOE could help its price to skyrocket once again.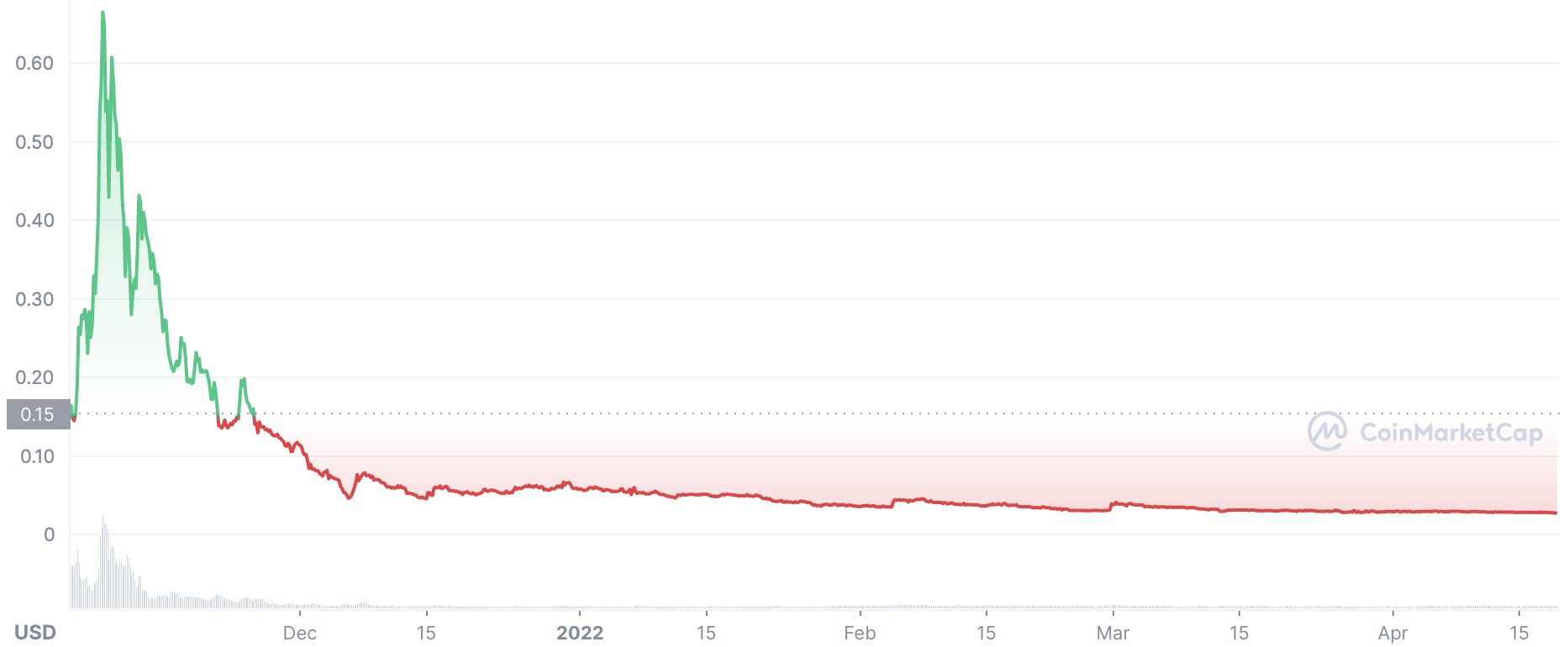 Conclusion
Dogs of Elon is a very interesting project tapping into several crypto-oriented spheres, however, it entered the market at the wrong time. This shouldn't, however, scare off possible investors as the project is still functioning and alive. Just testing that all-time high level of $0.66 could earn investors 22x from this price. Will Dogs of Elon do a 100x in the next few years?
Follow Dogs of Elon: Website | Twitter | Opensea | Discord | Telegram | Coinmarketcap | Medium
more to read
TOP 5 NFT Marketplaces to Buy NFTs in 2022
Dwarrior As The Biggest Three Kingdoms Project In Metaverse
Meta and Metaverse: How The Facebook Venture Is Going
---
NFT World News Social Media: Twitter, Instagram, Telegram, Tiktok, Youtube, Twitch
---
sources: opensea, twitter, dogsofelon, medium, coinmarketcap
author: Rene Remsik
Disclaimer: This article is provided for informational purposes only. It is not offered or intended to be used as legal, tax, investment, financial, or other advice.