Quick Introduction
Delysium is an open-world MMO that focuses on user-generated content in the metaverse. There's a cyberpunk vibe to it. Text and pictures are well balanced on the site. Even on mobile devices, the Delysium website is well-designed and easy to navigate. As a recurring theme throughout the game, Delysium has high-quality artwork. A playable whitepaper is available as part of Delysium. Blockchain figures are embedded in a minigame in which you can walk around and speak with them.
Basic Overview
Delysium's LinkedIn page displays 13 employees, but only some of them are actual team members. A few are investors. In a Medium article, it's mentioned that Delysium is led by rct AI. We see that some of the team members on Delysium's LinkedIn have a connection with rct AI. This leads us to believe that rct AI is Delysium's in-house development team.
Yuheng Chen – Co-founder & CEO (2021-present)
Yan Zhang – Co-founder & CTO (2019-present)
Deterrence – Founder & CEO (2021-present)
Soularis – Founder & CEO (2022-present)
NFT Game Assets
Delysium has launched several NFT collections, including outfits, weapons, and collectibles. These fully released collections can be seen on Delysium's innate marketplace and on their Rarible. Additionally, the Delysium Multiverse Accelerator (DMA) is currently available for purchase, while the Delysium Multiverse License NFT (DML) has yet to be released.

The DMA is an exclusive membership that gives owners the power to select, vote, and support each Delysium universe to become more prosperous. DMA holders work together with DMOs in order to build an ecosystem to enhance the player experience worldwide. Delysium offers a special staking mechanism that allows DMA holders to participate in this process.


On the other hand, the DML will be launched eventually on Immutable X through a free-mint with an initial quantity of just 100. Holding a DML makes you a DMO (Delysium Multiverse Operator).
Overall, Delysium aims to be an AAA-level game and offers an interesting approach to decentralized game publishing. We find the DML and DMAs interesting and innovative. Empowered by these two systems, Delysium will be the first game utilizing this decentralized game publishing structure, with more games with high quality and playability planned to join in the future.
Tokenomics
In order to incentivize the Delysium community, $AGI will be used as its main loyalty and engagement layer. Unlike other complicated dual token models, $AGI will be used to align, rather than separate governors, players, investors and content creator thereby consolidating as much platform value as possible into one token.
Native $AGI will be built on both Ethereum and BNB Chain with a 3 billion fixed supply.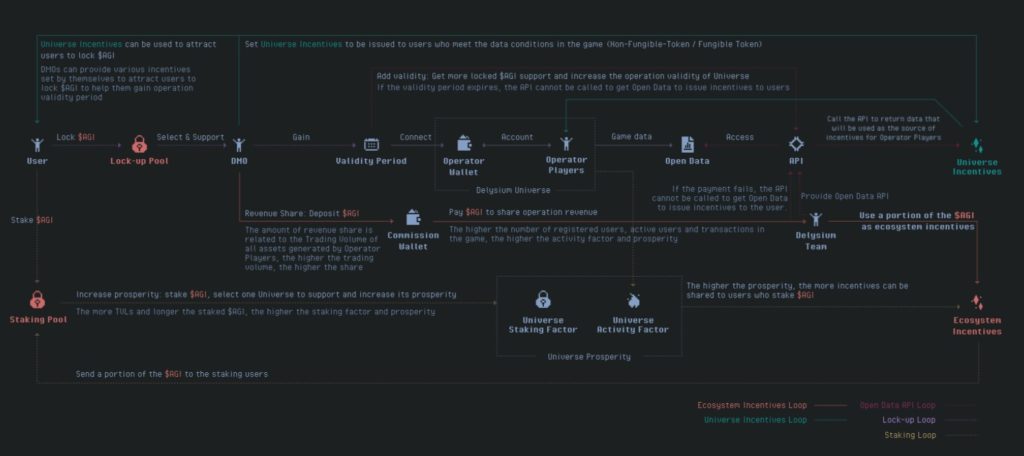 Roadmap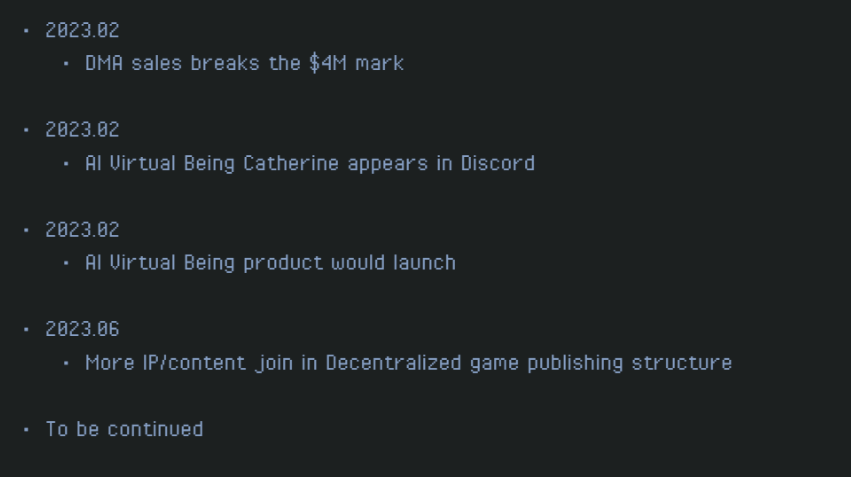 Socials
| | |
| --- | --- |
| Platform | Followers |
| Medium | 7.6k |
| Twitter | 192.1k |
| Discord | 7.4k |
| Youtube | 8.3k |
| Telegram | 19.8k |
Website
Whitepaper
https://www.delysium.com/whitepaper
Gameplay
Conclusion
Delysium seems to have a strong focus on promoting AI services and implementation in Web 3 games, which stems from their RCT AI incubator. This emphasis on AI appears to have a higher priority than the game itself, at least for now. As for the future of Delysium, it is unclear as the roadmap lacks specific details on the team's goals.