Quick Summary
Yield Guild Games is a new blockchain gaming company focusing on NFTs. It was introduced in 2020 and quickly received the attention of many individuals and investors. It's a DAO for investing in NFTs used in virtual worlds.
YGG's mission is to create the biggest virtual world economy combining the best from the NFT and DeFi spheres.
2021 is the year of extreme rise in the popularity of non-fungible tokens (NFTs). In Q1 of this year alone, NFT sales have reached an eye-popping $2 billion. Such assets have now become mainstream, all thanks to gaming projects like Axie Infinity and artists like Beeple, who have campaigned for the expansion of NFTs. If this rise continues, there's a game that could seriously bank on it with its significant user base and big ventures backing it. 
Yield Guild Games
Introduced in 2020, Yield Guild Games (YGG) currently sits at the top of the decentralized gaming sector. YGG co-founders Gabby Dizon and Beryl Li are part of a multi-ethnic team of blockchain experts and engineers, with a decade-long experience in DeFi. In 2020, Yield Guild Games recorded $12.5 million worth of native tokens sold in just 31 seconds in a single sale, showcasing tangible public interest, support, and great potential for worldwide dominance.
YGG is a decentralized autonomous organization (DAO) for investing in NFTs used in virtual worlds and blockchain-based games. The organization's mission is to create the biggest virtual world economy, optimizing its community-owned assets for maximum utility and sharing its profits with its token holders. YGG combines the best from the NFT and DeFi spheres to bring yield farming and develop the content & economy of these games. 
YGG's main activities are centered around the establishment of a vibrant international community of play-to-earn (P2E) gamers, who primarily compete to gain in-game prices and rewards. Moreover, the team behind the project continuously coordinates research and development strategies for participants in the DAO to arbitrage on yield generation by being competitive in metaverse-related games.
Game Selection Criteria and Launch
Gaming projects may be placed under YGG DAO protocol if they fulfill the following P2E elements:
– a virtual land-based economy that can be acquired
– a virtual economy with a native token
– P2E functionality where players are rewarded with native tokens for in-game activity.
Thanks to the YGG functionality and purpose, its involvement in the P2E gaming sector will continue to expand. The platform has already built a considerable portfolio, with games that fulfill the criteria and necessary yield requirements through DAO governance. At first, YGG's focus is on big projects, such as Axie Infinity, The Sandbox and League of Kingdoms.
How's Yield Guild Games Unique?
The DAO's principal revenue comes from leveraging YGG-owned NFT assets directly or indirectly via a rental scheme in which members of the guild use the assets in exchange for a portion of the in-game rewards going directly to YGG. However, third parties can generate revenue by conducting economic activities on their in-game land. Of course, the game also contains a P2E feature, where users receive native tokens for in-game activity.
Token Information (YGG)
Yield Guild Games has a native token YGG which is responsible for the health of the platform. Currently, this project has a market cap of around $420 million and a max supply of 1,000,000,000 tokens. YGG's volume is significant and the token is available on the biggest centralized and decentralized exchanges in the world, such as Binance, Huobi, Gate, KuCoin, Uniswap and Sushiswap.
The token distribution is divided into 5 groups: 
Treasury (13.3%)
Founders (15%)
Advisors (2%)
Investors (24.9%)
Community (45%)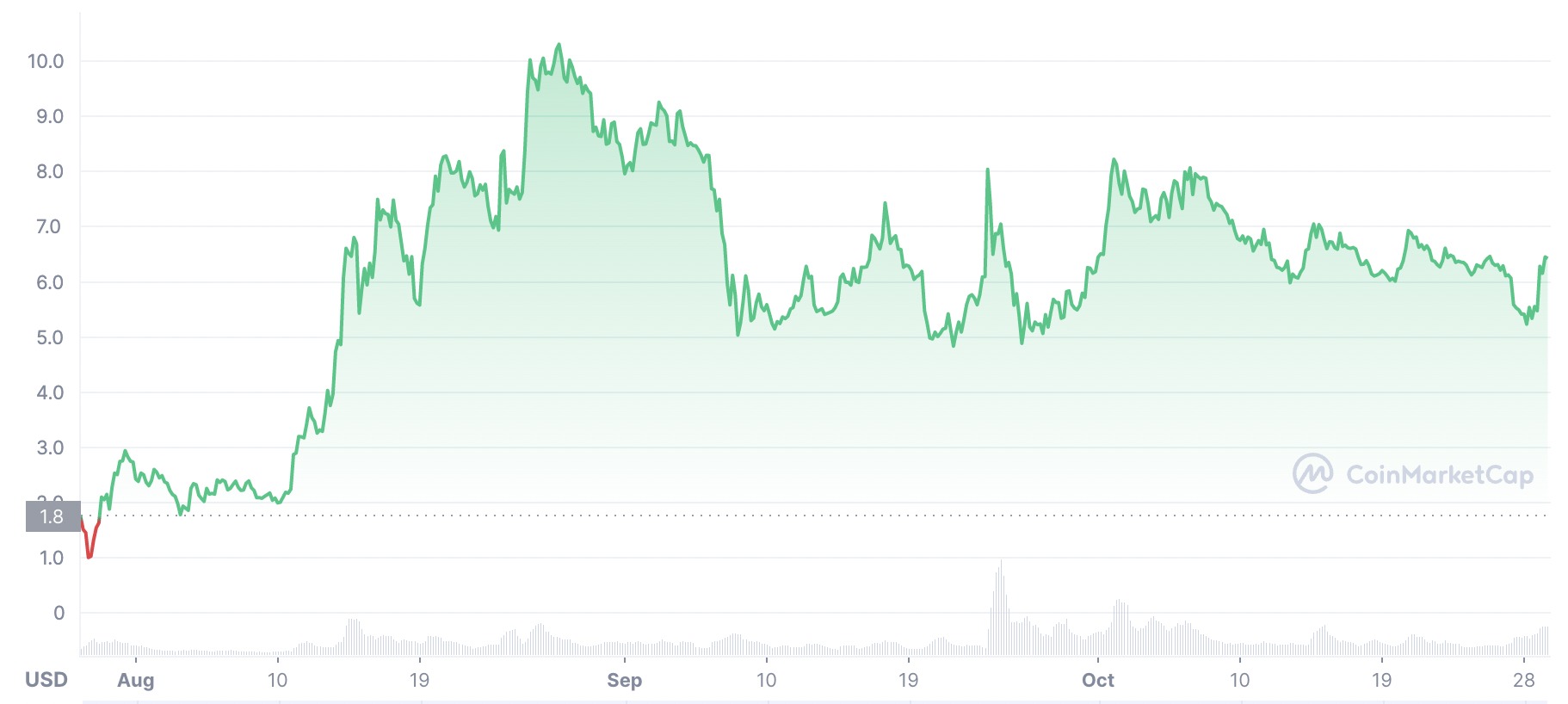 Conclusion
The gradual and rapid growth of NFTs has been quite astonishing. Yield Guild Games and other blockchains parties invested heavily in the P2E sector, where NFTs have facilitated the wide adoption of such games. YGG wants to offer users a better rewarding system that is lacking in many decentralized projects. With the crazy rise in the value of virtual world items, many people are starting to wonder whether the in-game items will have a higher value than real world items. Only time will tell. 
more to read
Pineapple NFTs Are The Real Deal
Thetan Arena is a New Popular NFT Game
---
sources: coinmarketcap, twitter, asiacryptotoday, yieldguild
author: Rene Remsik
Disclaimer: This article is provided for informational purposes only. It is not offered or intended to be used as legal, tax, investment, financial, or other advice.