Cryptocurrencies' wide adoption and popularity are bothering centralized platforms like banks and countries. The huge profits from cryptocurrencies are making coins overwhelming for everyone. From Bitcoin to Dogecoin, almost every crypto coin is fascinating for Crypto enthusiasts but here are the few coins we believe will explode in 2022 if Bitcoin keeps going up.
related blog: TOP 3 Upcoming Solana Utility Projects
Top Coin in 2022 RUNE: Thorchain RUNE Price Prediction
ThorChain is a decentralized Liquidity Protocol that enables exchanging cryptocurrency assets across different networks without losing their full custody and Rune is the native token of this network. Rune has a market cap of over $2.75 billion and ranks #45 on CoinMarketCap (at the time of writing). The reason to list Rune first is its capability to retain the bullish trend after a bearish market.
On February 24, the cryptocurrency market was extremely bearish, and, as seen in the image above, the price of Rune dropped to $3.11. However, within 35 days, the price of Rune rose more than 300% (adding around $10). This coin provides a good buying opportunity and offers huge returns when the market turns green again. You can buy this coin at some of the biggest exchanges in the world like Binance, KuCoin, Gate, FTX and many more!
PancakeSwap Coin: CAKE
The Automated Money Maker platform PancakeSwap is one of the well-known cryptocurrency exchanges for swapping BEP20 tokens, joining Syrup Pools, and staking your Cake tokens to earn insane profits. PancakeSwap is a Decentralized Finance (DeFi) Application and Cake is its native token of it. Cake ranks #48 on the CoinMarketCap and has a trading volume above $2.3 billion.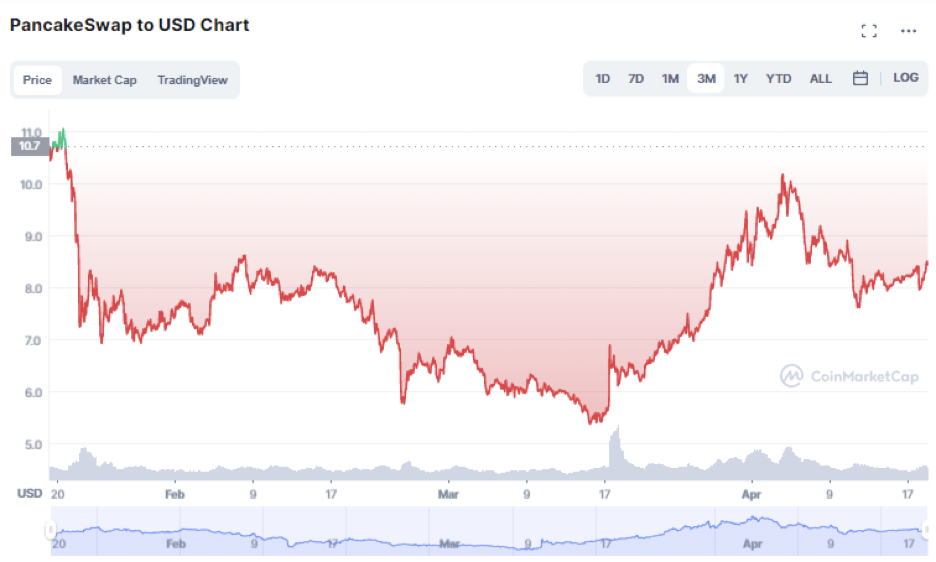 Though the chart above is red, this coin has a high potential to regain its all-time high of $44. Staking cake on PancakeSwap can earn you an APY of up to 66%. You can buy Cake on the most prominent crypto exchanges in the world, such as Binance, Gate, KuCoin, Huobi, etc.
Best Penny Coin: X-Cash
Cryptocurrency is all about decentralization and privacy. X-Cash is one such coin that takes users' privacy seriously and implements it through the DPOP protocols. X Cash offers Privacy Swap, Privacy Flexibility, and much more. Coins are valued concerning their demand and the utilities they offer (XCash has both of these). Once this coin gets enough attention, we might see it become the next DogeCoin – nevertheless, it offers a lot more than a meme coin.
If FOMO hits you daily for not buying Dogecoin when it was worth pennies, this could be the next opportunity. You can buy CyberCash from CITEX, Hotbit, QuickSwap, STEX, and Graviex. These coins have been performing really well in the recent bearish market and all of them recovered very quickly. The above analysis is the author's personal opinion and NOT financial advice. Always DYOR before investing. Good luck!
more to read
How To Buy Crypto In 3 Minutes Or Less
Gen-Z's Place in Web3 and Cryptocurrency World
Is This The Next 100x Metaverse Utility Token?
---
NFT World News Social Media: Twitter, Instagram, Telegram, Tiktok, Youtube, Twitch
---
sources: coinmarketcap,
author: Rene Remsik, mnmansha
Disclaimer: This article is provided for informational purposes only. It is not offered or intended to be used as legal, tax, investment, financial, or other advice.