In the last few years, the gaming sector exploded in popularity due to the implementation of cryptocurrencies, non-fungible tokens (NFTs), and blockchain into different games. That's how the play-to-earn (P2E) model has been invented. Now, there are many games trying to enter this space and adapt to the attractiveness of quick and stable profits. 
However, most games and projects miss real utility cases. In this blog, I will introduce you to a game that stands out with clear predefined utilities, which might be the next 100x gem. Have a look and make your own opinion.
related: Become A Crypto Citizen And Conquer The Metaverse
CyberCash In Crypto Citizen
See CyberCash on coinmarketcap here
CyberCash (CCASH) is the future currency of Metropolit city and the in-game cryptocurrency of the most anticipated NFT game of 2022, called Crypto Citizen. You can earn CCASH by participating in drag races, street fights, or by building businesses, buildings, factories, and more in the open world of Crypto Citizen. Embrace your true Crypto Citizen character and establish yourself as a Cyber Millionaire! You can also earn CCASH by staking, opening chests, and a lot more! Crypto Citizen is built to be fully engaging, but also very profitable for everyone involved.
This is one of the reasons that is attracting people to join this upcoming metaverse experience. Crypto Citizen is made out of 3 phases; Drag Races, Fighting Games, and an open world metaverse, Crypto Citizen. It's gaining a lot of attention because of its interesting storyline, design and tokenomics. Drag Races completed its first Alpha Test and the second Alpha Test will be running soon, as well as Fighting Games Alpha Test 1.0. 
Moreover, the Alpha Test for the open-world metaverse should be live by the beginning of summer. Crypto Citizen is a real game with real products and it managed to create unique NFTs with VR technology from Chainlink and created great tokenomics and much more. The development team behind the game has work experience from Blizzard, Gameloft, Ubisoft and other AAA gaming studios. Now let's dive into the important aspect of this project, which is tokenomics and the 100x potential.
Is CyberCash The Next 100x Token? (!!!Listing Soon!!!)
CCASH is a metaverse token that is ERC-20 and BEP-20 compatible for the best gaming experience. There's a max supply of 1 billion CCASH tokens and only 12 million (1.2%) will be released during the exchange listing. The initial market cap of Crypto Citizen will be only $0.72 million and the listing price is $0.08. With such a low cap start, CCASH has the potential to skyrocket by at least 100x!
CCASH is one of the most favorable projects in the crypto space right now, with prominent partners such as Binance Smart Chain, Polkastarter, Binance NFT, Maven Capital, OpenDAO, Seedify, Firestarter and many others! After this project goes through several exchange listings, it can help the tokens' price to explode in a matter of a few weeks or months. If you've been in the crypto space for some time, you must know projects like Decentraland, Sandbox, Axie Infinity, etc.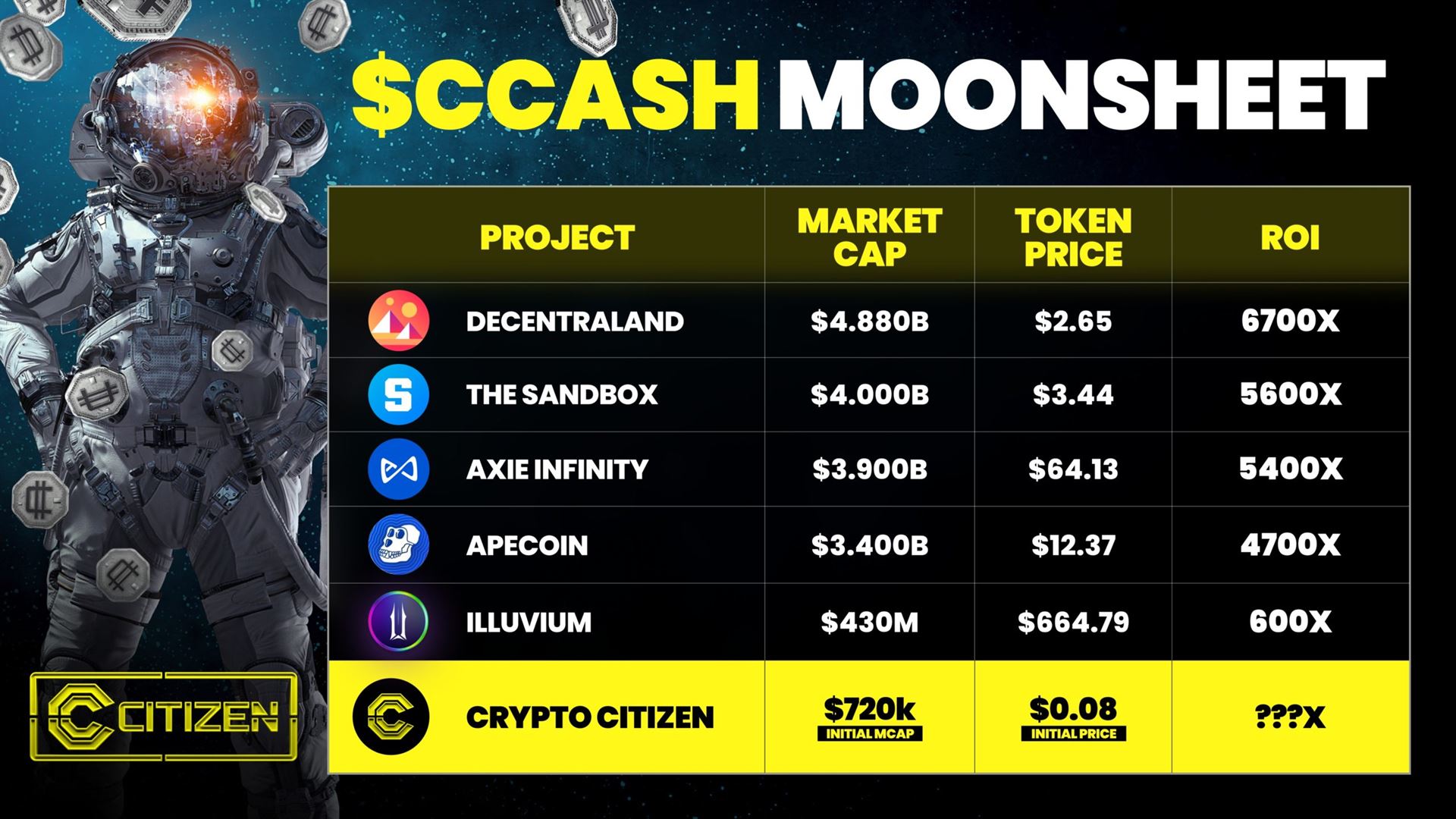 They are one of the most successful NFT/crypto metaverse gaming projects with ridiculously high returns on investment (ROI). And they are not the only ones. There are many more projects like this, but they have already become billion-dollar projects, and there is not a 100x ROI potential anymore. However, Crypto Citizen is starting out with less than a million-dollar market cap. Do the math and you will see how high is the potential ROI on CCASH.
Crypto Citizen contains rewarding gameplay that redistributes 25% of the in-game revenue to the player reward pool and 12.5% of the tokens will be burned (deflationary function) to support a long-term price growth development. The price of CCASH will also be supported with regular buybacks at a market price of 50% of the primary sales. CCASH also offers competitive staking, daily rewards for playing, etc. Moreover, the amount of $CCASH determines the players' Citizen Ranking while the time period gamers hodl $CCASH determines the Governance Power.
Crypto Citizen/CyberCash Important Information
Crypto Citizen sold out its 3,000 NFTs (priced at $199 each) in 2 offerings on Binance and OKEx in an instant, totaling around $600k in sales
CyberCash went through 4 whitelists on Polkastarter, Firestarter, Seedify and Spaceswap, raising approximately $1.2 million in public rounds
All three phases of the game (Drag Races, Fighting Games, Crypto Citizen open-world) are going through Alpha Test within a few weeks' time
CCASH has great tokenomics, utilities, ecosystem, and at least 100x potential ROI as it starts with a market cap lower than $1 million
Crypto Citizen: A Part Of Huge QORPO Ecosystem
Crypto Citizen is only one of many successful blockchain games QORPO has developed. The whole ecosystem is made out of QORPO Market (an NFT marketplace), Trade Race Manager 2 (NFT racing game), QOPRO ID (wallet, staking, game launcher, NFT drops), and other upcoming mini games. QORPO is an international gaming studio with several products that creates a rich ecosystem, and this is something that's not common in the crypto space. QORPO also plans to develop more games gradually.
The rich ecosystem offers many options where everyone can benefit from the crypto/NFT implementation. QORPO is innovating the most enjoyable kinds of games, which are racing, fighting, and shooting (FPS games). The possibility to play GTA, Counter Strike, or Tekken-like games, and be able to earn cryptos by beating your opponents is something QORPO is successfully doing for several years now. 
Sneak Peek: Hero-Based FPS Game
The new hero-based FPS will be a team-based multiplayer shooter game where players will be assigned to two teams of 5. Everyone can choose from several characters, known as "heroes'. Have you ever wanted to play an FPS game and earn cryptos or NFTs at the same time? It will be possible very soon! 
The game will have a variety of game modes, the majority of them are centered on squad-based fighting between two opposing teams of five players. Each hero has their own skill kit, which defines their intrinsic traits, such as health points and running speed, primary attacks, a variety of active and passive skills, and an ultimate ability that can only be utilized when it has been charged by inflicting damage to opponents and healing allies. Stay tuned for more information about this upcoming game!
Conclusion
Looking for the next 100x projects may be hard but if you take the time and do due diligence, you can find them. The crypto space is full of opportunities and it's up to you to use it. Now take the information you learned in this blog, and decide on your own whether CCASH is the next 100x gem. 
About Crypto Citizen
Crypto Citizen introduces a new era of rule & earn gaming in NFT Metaverse. Set your destiny in the Metropolit city taking place in the year 2101 on the verge of technological revolution! MMO world of CryptoCitizen allows you to live your dreams to the fullest. Establish a profitable business, build your factories, ride the hottest cars or visit the most lucrative clubs.
All of that in an open world Metaverse, whether you plan to get your hands dirty or enjoy the luxury of capitalism. Take the advantage of a modular building system and transform your ideas into reality in a monetized sphere of the cryptocurrency world.
Respect is earned, not given. Take advantage of the unique reward system and get yourself to the top of citizen rankings! Join the nobles either by owning the exclusive citizen ID or by governing the city through the never-seen-before game economics model of CCASH, which brings you to the aristocracy of Metropolit city. CCASH represents a means to govern the Metropolit. It's your choice if you plan to secure it legally, or not.
Follow Crypto Citizen Here
Website | QORPO ID | Twitter | Telegram Chat | TG News | Discord | IG | Twitch | Medium | Youtube
---
more to read
WhitePigeon Network – A True DeFi Revolution
These NFT Bulls Rocked OpenSea!
BlockchainSpace Assembles Guild Hubs For The Best Gaming Experience
---
NFT World News Social Media: Twitter, Instagram, Telegram, Tiktok, Youtube
---
sources: medium, qorpo.world, cryptocitizen, nasdaq
author: Rene Remsik
Disclaimer: This article is provided for informational purposes only. It is not offered or intended to be used as legal, tax, investment, financial, or other advice.