Introduction:
Calvaria is an upcoming game that is a combination of both Play-to-earn and Free-to-Play game niches. The game's expected launch is in Q2, 2023, according to Calvaria roadmap. Calvaria: Duels of Eternity is a battle card game like Parallel. Players have to have unique cards that represent characters of different abilities to win the game.
The game involves rich strategies and players can win in-game rewards, NFT tokens, and RIA tokens.
1st Trailer:
Overview: Calvaria Latest Review
Just like other P2E games, Calvaria: Duels of Eternity offers true ownership of digital in-game assets to the players of the game. The game features multiple modes to accommodate players of each interest:
Multiplayer Mode: Compete with multiplayer and participate in tournaments

Treasure Hunt Mode: Complete the in-game activities to unlock the in-game rewards

Single Player Mode: Player vs Enviroment mode is for single players who want to test their strategies

Free to play: This is the basic account with no upgrades, perks, and rewards
The P2E mode features selling and upgrading card decks, NFTs, Royalty payments, Loot Box Drops, Scholarship opportunities to Guilds, Sponsorships, Upgradable NFTs, physical and digital goods, and tournaments.
Just like in some games, we use spells to boost the abilities, players can boost the abilities of their cards in the game. However, once the card is boosted, it won't be accessible as part of the battle deck. But the right way to boost the cards abilities permanently is to upgrade them.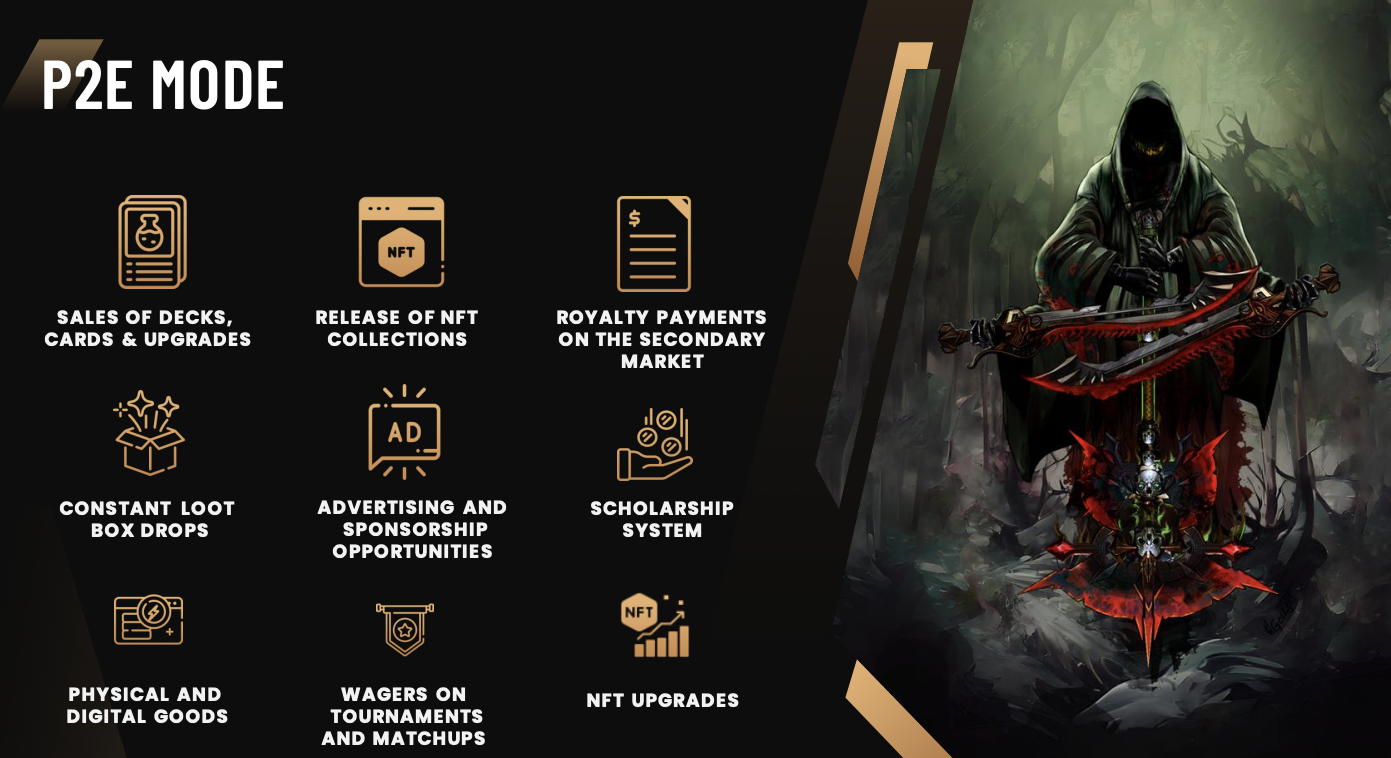 The Battle deck game involves different types of cards for different scenarios. A battle deck is a set of cards chosen by you that you take to the PvP/PvE match. Let's say you have a total of 25 cards, but you will need to assemble your battle deck that consists of 12 cards that suit your game style.
Recent update:
The game is currently in active development, according to a recent update. Aside from the unseen backend work, the developers are focusing on improving the UI/UX for a more immersive gaming experience.
The game developers are putting together various pieces of the game, as evidenced by the stunning visuals, artwork, and overall feel of the game. Everything appears in place based on what has been revealed thus far. The development team has released two screenshots to the public as a sign of progress.
NFT Rarity:
There is not much detail about the NFTs of Calvaria except this: the NFTs will be released through INO (Intial NFT Offering). Only 6% of the NFTs will release starting from next month to July 2023, releasing 15,000,000 each month. The earning generated through INO will be used in the development of the Calvaria P2E game.
| | |
| --- | --- |
| Date | Unlock amount |
| Apr-2023 | 15,000,000.00 |
| Mar-2023 | 15,000,000.00 |
| Jun-2023 | 15,000,000.00 |
| Jul-2023 | 15,000,000.00 |
Tokenomics:
$RIA is an ERC-20 token of Calvaria and will be used as fuel across its ecosystem. The token will be used as a liquid and a tradable asset to provide digital ownership to the players. $RIA intends to optimize the incentives for all project participants: developers, players, teams, and investors.
Besides its use-case in DAO, the token will ensure economic stability. Moreover, the token has the following utilities:
Shopping in the in-game store
Rewards for competing in tournaments
The total supply of $RIA token is
1,000,000,000
units which will be distributed as follows:

Conclusion:
The game seems promising but it is still in its early development phase. Once their beta version is out, we can see a bit clearer picture of the game and see how its community responds to it. We are excited to see what the final product will bring to the gaming community.