Introduction: SHRAPNEL
AAA blockchain-based First Person Perspective game SHRAPNEL has recently released its trailer. The action pack shooting game revolves around the extraction theme. The game's CEO, Mark Long, and the Head of the Studio, Don Norbury are positive about the game's future as SHRAPNEL is one of its kind to offer quality gameplay in the blockchain domain.
The 1st AAA customizable FPS game is truly owned by players using blockchain technology. The game comes from a BAFTA & Emmy Award-winning team. The SHRAPNEL core team recently hosted a Twitter space to discuss Web3 trends in 2023.
Exclusive First Look:
Overview:
A cataclysmic event occurs when an asteroid collides with the moon, creating Saturn-like rings around it in Shrapnel's projected future. Then, in a 500-kilometer-wide area known as the "Sacrifice Zone" or simply "The Zone," these rings assault the Earth. Shrapnel is the name for the valuable resources that are found inside The Zone. Mercenaries swarm to the region to remove obstructions and extract shrapnel because of the area's magnitude and the materials' high worth.
The play zone keeps shrinking like the popular video games PUBG etc. As the play zone shrinks the battle gets more intense and adventurous. The game involves rich strategy and high skills as
SHRAPNEL players must follow one rule: Survive
NFT Rarity:
From weapons and skins to loots and hunts, every in-game item is an NFT. Players will battle will other players to find the material to upgrade their weapons to increase their odds of success. The SHRAPNEL game players create their own collection of vanity items (which are NFTs), set a price, and unique quantity. Their collection in the later stage is presented on the marketplace to trade or sell these digital assets.
With a rare supply, five categorized vanity items will be made available. These rare materials can be used to create vanity goods that have their own distinctive in-game expressions.
Tokenomics:
SHRAP is the native token of the SHRAPNEL ecosystem that is used as fuel across the entire ecosystem. The token is used in the DAO as a governance token, as a reward to incentivize the on-chain validators, minting, and medium of exchange of the digital items.
The token is set to release in different phases.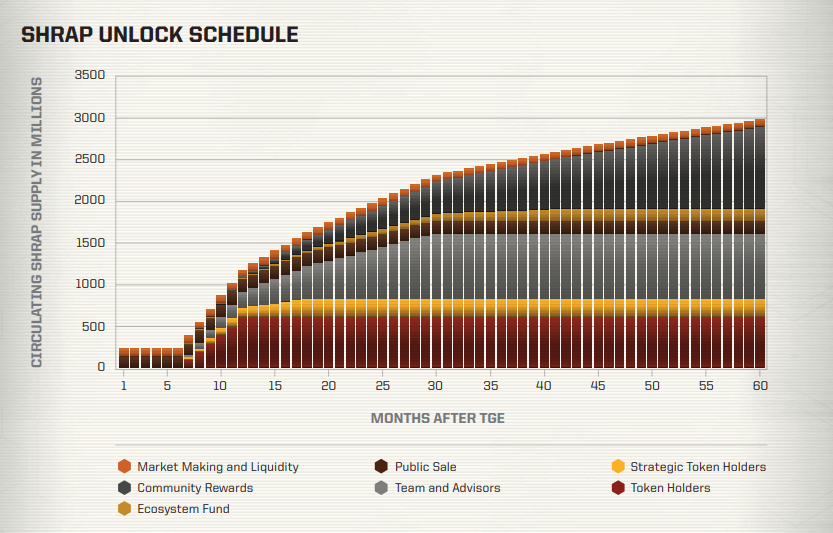 Summary:
SHRAPNEL is a blockchain-based first-person shooter game that recently released its trailer. It's set in a future where an asteroid collision with the moon creates Saturn-like rings that bombard the Earth in a 500-kilometer-wide area known as the "Sacrifice Zone." The game is unique in its use of blockchain technology, allowing players to truly own in-game items as NFTs, which can be traded or sold on the marketplace.