Quick Summary
REVV Racing is a car racing blockchain game developed by Animoca Brands. It's a hot P2E motorsport metaverse game with its own in-game token REVV.
REVV Racing looks like a traditional video game but the cars in the game are NFTs and all play sessions are registered on blockchain.
Blockchain gaming has brought many interesting projects and metaverse allowed the creation of even more games. In this blog, we will look at one of the most known NFT car racing games. This game has its own token besides non-fungible tokens (NFTs) and it will bring you a lot of adrenaline!
you might wanna read this: 5 Biggest Upcoming Metaverse Projects (part 3)
REVV Racing
REVV Racing is an arcade simulation car racing blockchain game developed by Animoca Brands (a well-known blockchain gaming company). It is the newest play-to-earn (P2E) title in the REVV Motorsport metaverse of racing games. The goal of REVV Racing is to develop a blockchain-based game with the quality, look, and feel of a traditional video game. Additionally, it's supposed to have modern gaming features of blockchain games.
In REVV Racing, cars are NFTs and all play sessions are registered on blockchain – but the game looks and plays like the 3D car racing games you have played on your console or PC. Moreover, all REVV Motorsport games are connected by the utility token REVV, which serves as the primary currency of purchase, utility, and action across all the games. REVV is designed for use across multiple connected products.
Key features of REVV Racing
first-ever arcade simulation car racing game on blockchain
first & third person view 3D racing game, with additional cameras/angles coming soon
total control of your car on track in real-time
play using your game controllers (Xbox, PS) or keyboard
in-game assets are your NFTs
part of the REVV Motorsport ecosystem
powered by the REVV token
built on Polygon
Token Information (REVV)
REVV is a utility token used as an in-game currency. It serves to maintain the gaming economy in F1 Delta Time, MotoGP Ignition, and REVV Racing. These projects implement the concept of P2E, through which gamers are provided with financial benefits in the form of cryptocurrency for their contribution to the game world.
The token has been launched in September 2020 at a price of $0.015 but quickly rose $0.62 only within half a year. There is a max supply of 3,000,000,000 tokens and REVV is available for trading on many prominent exchanges, such as Gate, Kucoin, Bittrex, Uniswap, MEXC, OKEx, Pancakeswap, and much more. Currently, the project has a market cap of $60 million and several million-dollar trading volume. The price of the token is down 66% from its top, but it still got a lot of potential for growth in the future.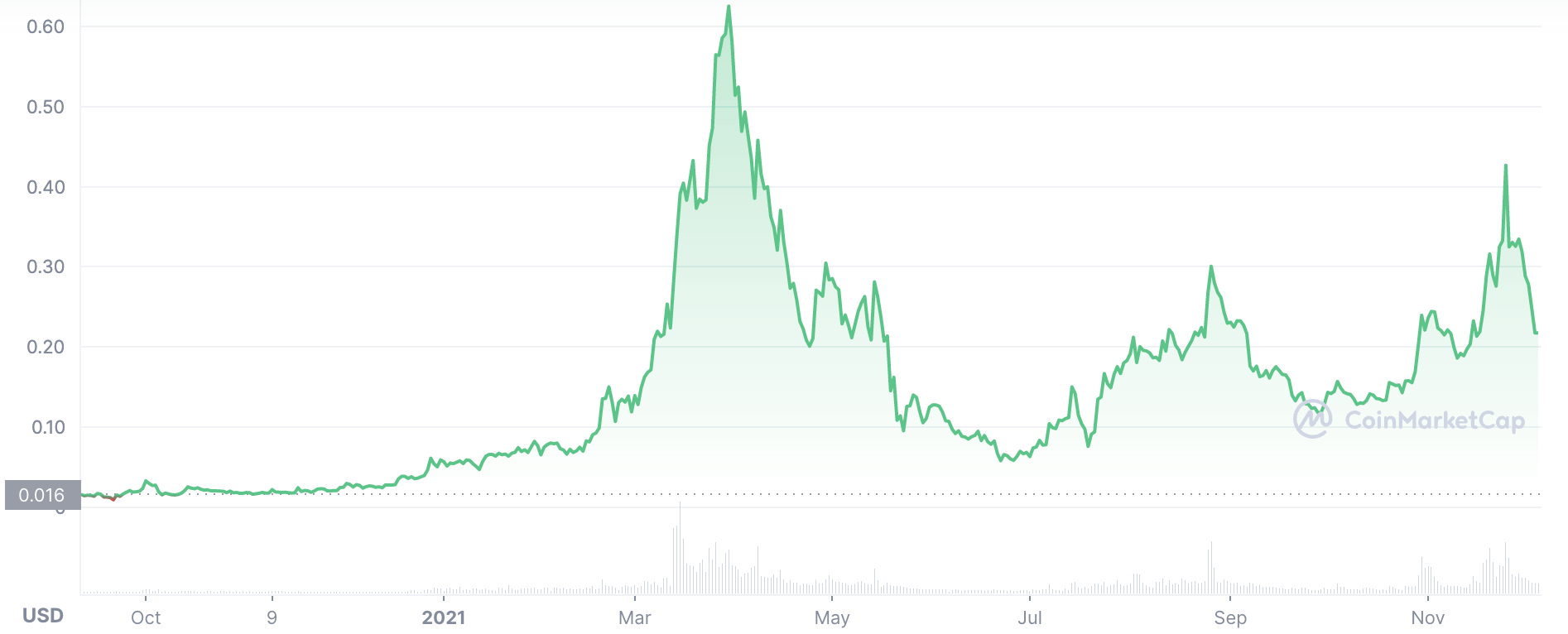 Conclusion
REVV Racing is one of the first cool car racing projects in the blockchain gaming sphere and their token has seen some significant growth in the last year. P2E Gaming has only really started in 2020, so there is still a lot of space to grow for all these projects alike. 
more to read
Vaulty Incorporates DeFi & NFT Yield Strategies
CyberKongz Is a 9-Figure NFT Project
---
NFT World News Social Media: Twitter, Instagram, Telegram, Tiktok, Youtube
---
sources: coinmarketcap, revvmotorsport
author: Rene Remsik
Disclaimer: This article is provided for informational purposes only. It is not offered or intended to be used as legal, tax, investment, financial, or other advice.