Crypto is enjoying massive hype, and many people are looking for ways to earn free crypto without spending money. Bitcoin and other crypto coins are notorious for their volatility, but there's nothing better than seeing the value of your portfolio appreciate.
However, when the market is bearish, the risk involved in buying crypto increases. So, why spend money when you can get it for free? Here are some of the trending ways to earn free crypto in 2023:
Sign-Up Bonus:
There's insane competition in the crypto space to get maximum users. Crypto exchanges offer hefty rewards such as sign-up or deposit bonuses. They usually collaborate with various crypto projects and offer these bonuses. As a result, those coins get exposure to new buyers while these crypto exchanges get new users.
Some of the exchanges also offer deposit bonuses to encourage new traders to deposit a certain amount and claim the prize.
KuCoin: KuCoin gives users a mystery box worth up to $500 for signing up!
Coinbase: Coinbase currently offers up to $200 of rewards for new users!
BitGet: BitGet offers $1000 USDT worth of tokens to reward new users.
We are thrilled to announce our latest partnership with Bitget, a leading cryptocurrency exchange platform.

Sign up and get 1000 USDT coupon

Sign up now : https://t.co/G5S2dkMJeV

More rewards👇

Join and Share $100,000 Prize Pool! Register now and seize the opportunity 👇… pic.twitter.com/RmiyLKjRgd

— CBgBull 🙃🚬🌿 (@CBgBull) July 3, 2023
As far as difficulty is concerned, it is very easy to sign up for these platforms. The only problem is that since these platforms are centralized, they might require KYC.
Airdrops:
You might have heard about these a lot because almost every crypto project offers free drops as a promotional trick. They usually ask people to fill out the form with some basic info and assign some tasks. The tasks include posting specific messages on their walls, interacting with the post on social media, and tagging more people to increase their reach.
However, it is not necessarily the same for each project. For example, you can be eligible for Polygon ZkEVM airdrops in three ways: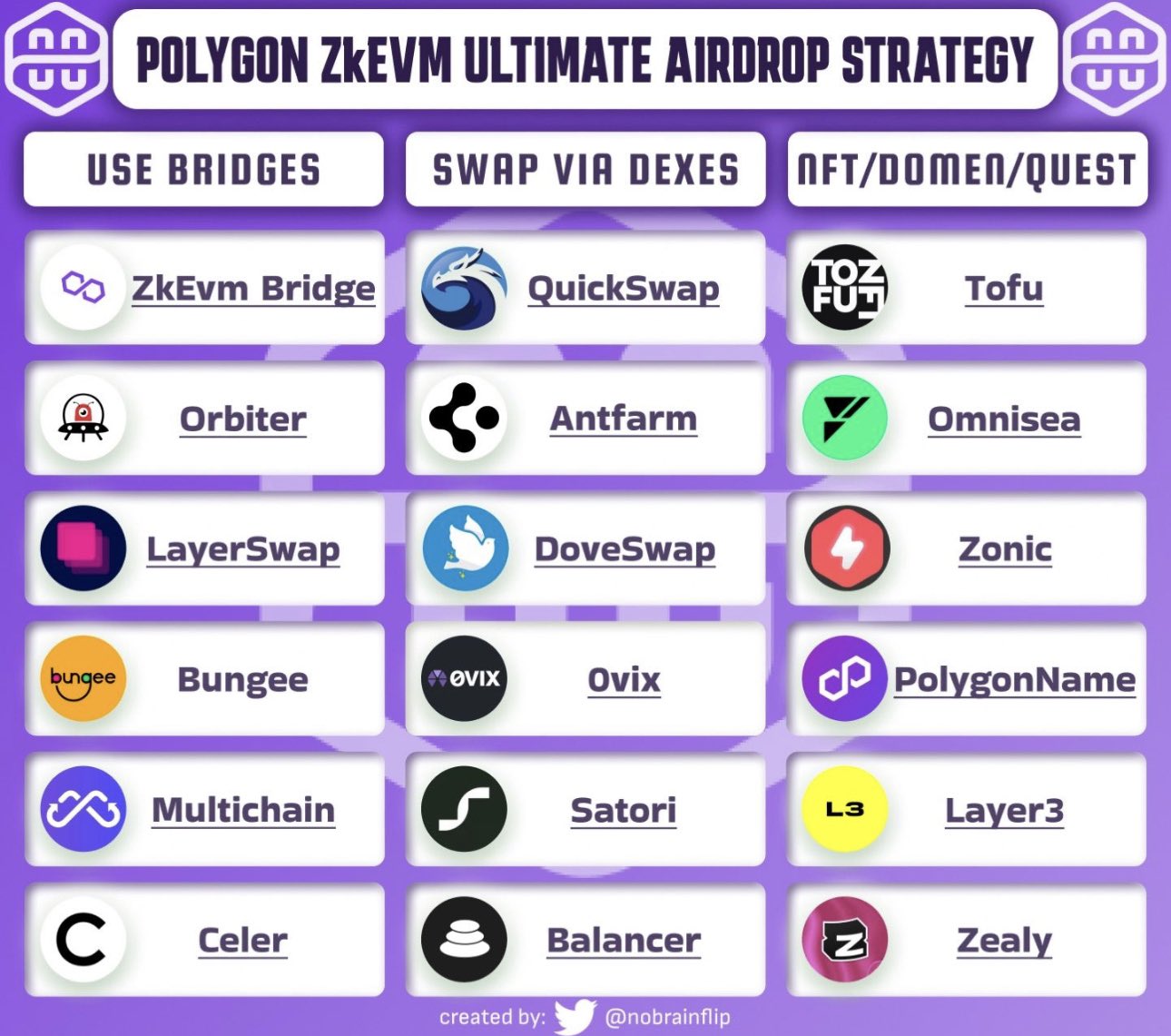 In the past, Uniswap and Ethereum Naming Service (ENS) have airdropped their tokens to the community as a reward and more Airdrops are coming in 2023. These tokens can be used to vote or utilized based on their utilities. Due to the high number of participants claiming airdrops, the project team is compelled to select winners through a careful shortlisting process.
Freelance:
Though this method is not entirely free you can offer services that match your skillset and earn money. You can then buy crypto with it. However, there are some decentralized dedicated platforms where your clients will pay you in cryptocurrencies such as Bitcoin, Tezos, and Ethereum-based stablecoin!
Deelance, CryptoTask, and BrainTrust are some of the top crypto-based platforms in this domain. Deelance is a relatively newer project but its decentralized nature makes it stand out among all the platforms to earn crypto.
Play-to-earn:
Play to Earn is a thriving market for video games with great potential to earn while playing your favorite games. The industry is growing with a Compound Annual Growth Rate of 7.7%. Major gaming platforms are bringing the mainstream fun to blockchain, paving more ways to earn money.
Some games make you buy an NFT as a playable character before you can start earning money. But there are also games that let you start earning money right away with their Free to play model, without buying anything. All you have to do is sign up, connect your crypto wallet, and start playing!
Conclusion:
There are other ways to earn free crypto, but they require some skills or an initial investment. For example, you can test out blockchain bridges, but this requires technical knowledge. Here is a quick comparison of the all free crypto rewards in 2023 with respect to their sustainability, risk involved, and skill level required.
You can also invest in new projects, but this is risky because there is a chance that the project could be fraudulent or illicit. It is important to be aware of the risks when earning free crypto. Do your research before participating in any projects, and only invest what you can afford to lose.