Quick Summary
WAM is a P2E social crypto gaming platform allowing players to compete in tournaments and earn crypto rewards in the form of WAM Tokens and NFTs. WAM consists of several cool games and it has a rich ecosystem.
Gaming is going through a revolution, literally! There has been a boom in the gaming industry ever since it's been created, however, blockchain and NFTs are changing it forever. With the possibility for players to own digital items and earn income through cryptocurrencies alongside transparent blockchain transactions, there's a place for a whole new ecosystem. That's how play-to-earn (P2E) gaming has been created and there is a company that is strongly focusing on this sphere, called WAM.
related: TRM 2 Is The Most Undervalued NFT Game Of 2022
WAM – Hyper Casual Gaming Platform
WAM is a P2E social gaming platform that allows players to compete in skill-based tournaments in highly engaging mobile games in exchange for WAM tokens and NFTs as rewards. The platform, which was created in 2020 by the Romanian business Digitap, wants to integrate multiple features that can generate income for its users into its ecosystem.
WAM was reportedly accessed by 3.5 million gamers from all over the world since its inception and it is inspired by real-life amateur sports competitions, in which millions of fans compete in a variety of sports for the purpose of having fun and spending valuable time with friends and family. WAM has a rich ecosystem consisting of 4 WAM4EARN features.
Develop-to-earn
This feature allows indie game creators to publish their games and have WAM users play in tournaments to earn money from the games. Developers will also be able to sell a tokenized version of their games to the community as NFTs, ensuring that the developer receives initial cash while the community supports their favorite game developers.
Play-to-earn
Users on the WAM platform can easily earn money by participating in gaming tournaments. Every tournament costs money to enter and lasts anywhere from 12 to 120 hours, giving everyone an equal chance to climb the scoreboard. Every player will have an endless number of chances to get a high score, and with in-game revivals, they will be able to continue from their previous score up to three times in a row.
Own-to-earn
WAM lets users own games, avatars, nicknames, and a lot more.
Promote-to-earn
WAM aspires to be a pioneer in the field of permissionless product and service promotion. Marketers using the platform will be able to promote specific tournaments or the entire WAM platform by delivering traffic and turning visitors into active WAM members. Smart contracts will be used to settle every conversion and revenue, allowing anyone to profit from promoting WAM.
Token Information (WAM)
WAM is a BEP-20 utility token available on WAM.app, a play-to-earn social gaming platform where users discover and compete in fast tournaments for crypto payouts in WAM and NFTs. The token is used to get access to tournaments and to employ platform features such as revivals, NFT minting, and coin locking to win incentives, among other things. Each WAM token holder will be able to use their own wallet to connect to WAM.app and play in tournaments of their choosing.
WAM is also available on some of the most known centralized and decentralized exchanges in the world, such as Gate, PancakeSwap, MEXC, MAIAR, etc. Currently, WAM has a $6 million market cap with persistent trading volumes. The max and total supply of WAM tokens is capped at 1 billion. The token is moving around $0.09 at the time of writing, and considering all the data mentioned above, this project has a huge potential.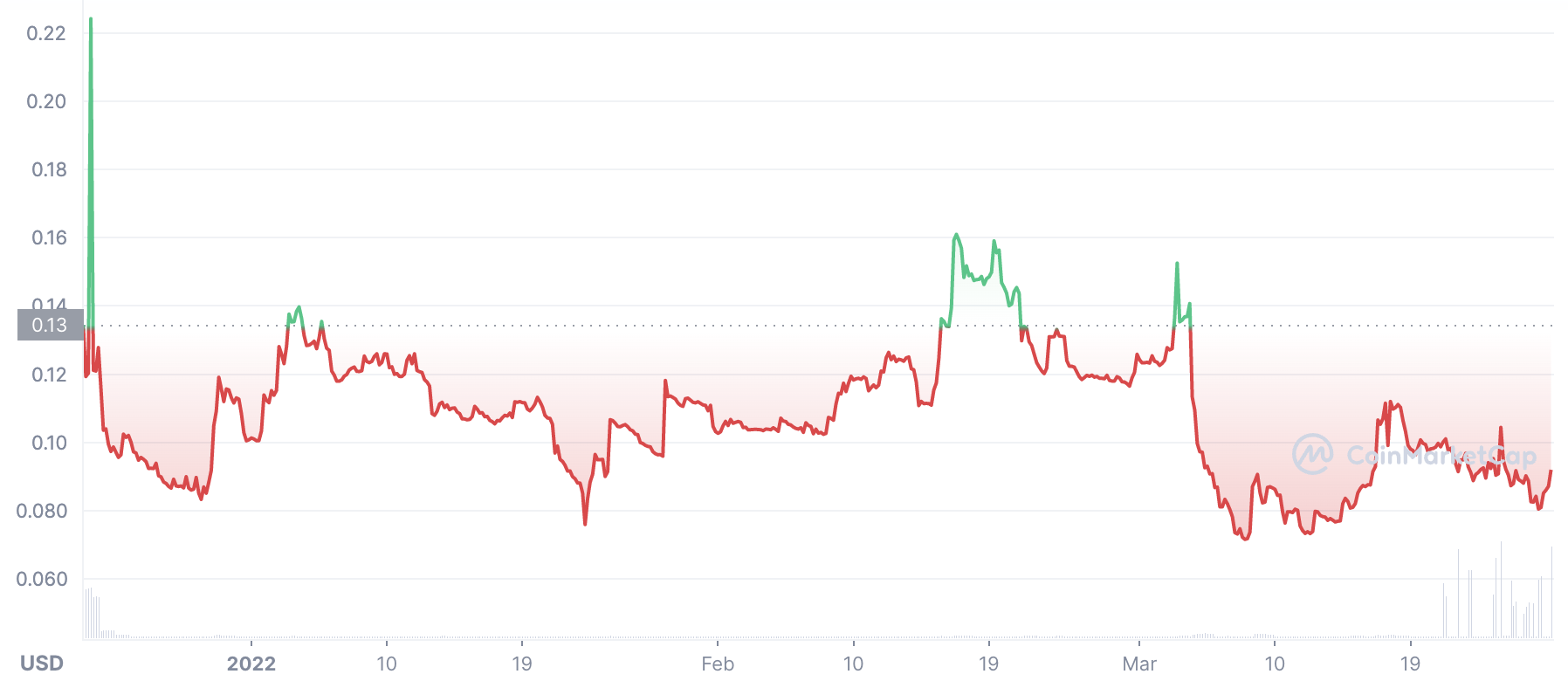 WAM x Elrond Partnership
Popular play & earn platform WAM partnered with Elrond Network by launching an ESDT token bridge that allows WAM holders to bring their tokens to the Elrond Network. This will soon enable them to participate in DeFi opportunities and later on enjoy direct integration into the WAM platform.
Gamers will thus be able to earn ESDT WAM tokens and further use them to join tournaments or own games, avatars, nicknames and other items, which are unique NFTs and can generate various passive income streams for their owners. Trading is now live for a new pair ($EGLD / $WAM) on the Maiar DEX as well.
High-grade events and announcements are to be expected from this campaign and already, the Staking Program and the LP Staking Program have been launched together with a handful of partnerships and events. Basically, the WAMoon campaign aims at driving the adoption and development of the WAM platform.
Conclusion
WAM is the first hyper-casual gaming platform with a P2E model. The platform has been downloaded over 180,000 times in just two months after its public beta version was released. In addition, it was a finalist in the 2021 and 2022 Mobile Games Awards. Furthermore, the platform announced a $2.7 million funding round as well as a six-fold oversubscription by the end of 2021.
The entire WAM team is on a mission to onboard 100 million users, and a hyper-growth campaign tagged "WAMoon " is the first of many steps to accomplish the mission. This campaign which will be on for a 60 days duration, is focused on consolidating the WAM platform and token in international markets.
Follow WAM Here: Website | Twitter | Coinmarketcap | Discord | Telegram |
more to read
How To Do Research (DYOR) Before Investing And Avoid Rug Pull
BKEX Review: A Reliable Digital Asset Trading Platform
Vitalik Buterin Is Slamming The NFT Empire
---
NFT World News Social Media: Twitter, Instagram, Telegram, Tiktok, Youtube
---
sources: coinmarketcap, wam, coinmarketdo, ambcrypto
author: Rene Remsik
Disclaimer: This article is provided for informational purposes only. It is not offered or intended to be used as legal, tax, investment, financial, or other advice.