From crypto to DeFi (Decentralized Finance) and now GameFi (Game Finance) – the transformation is insanely rapid as GameFi is one of the hottest topics in the blockchain world. Games are played for their thrills, and introducing the play-to-earn (P2E) model was a great endeavor to incentivize players directly, making it GameFi.
related: Heavenland: Futuristic Solana-Based Game For Dreamers
DeFi And GameFi
DeFi or Decentralized Finance is a token-based field that allows lending and borrowing assets on blockchain for specific collateral. GameFi or Game Finance is an incentive model to offer blockchain game players an incentive using DApps (Decentralized Applications) for their time spent in the game or performing game-related tasks. The approach is generally called play to earn in a broader sense. The tasks could be hunting treasures, staking and mining precious resources, or growing digital pets or crops.
The generic approach used by the blockchain games, which is pretty successful, is used by Axie Infinity, whose trading volume is over $500 million monthly. The economic model of GameFi of Axie Infinity mainly relies on $AXS, the native utility token, Love Potion (SLP), and last but not least, NFTs (Non-Fungible Tokens). 
Players have to buy a playable in-game character (called Axie) for around $700 to start playing the game. After that, players get a Love Potion for winning battles and quests. Axies are breedable creatures, and their offspring can also be sold as NFTs. AXS is also used as a governance token that gives players a right to participate in the decision-making process of future project directions. AXS can also be staked to earn interest.
DeFi projects work on a similar model where users borrow and lend against their collateral for a set period. The term is more popular with cryptocurrencies, but play-to-earn games merge both DeFi and GameFi into one to offer a model that is the future of video games. Since almost all of the in-game assets are NFTs, if a player has an upgraded weapon or a game character (a warrior), they can lend it to the newer players and earn interest over those NFTs.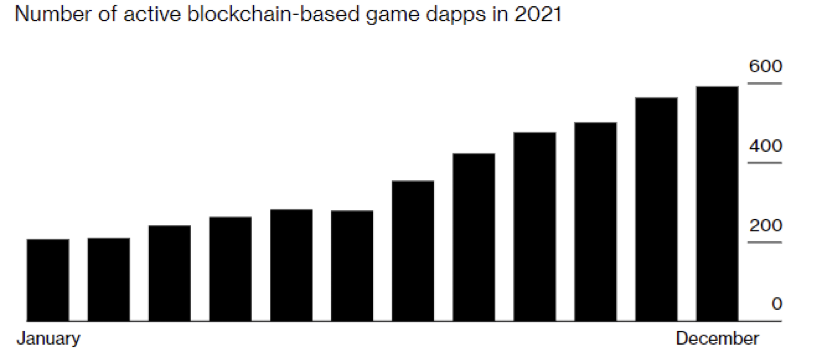 As the GameFi popularity soars, it becomes more evident that blockchain games will take a big chunk of blockchain assets' investments in coming years. As a video game player, I love these games as I get paid for doing what I love – and I get to decide on the future model of my favorite game. What else is there?
more to read
SpongeBored: SpongeBob Goes NFT
Cancel Culture: The Next Big Name In The NFT Space
Okay Bears exploded in popularity: could it be the next BAYC?
---
Follow NWN: Twitter, Instagram, Telegram, Tiktok, Youtube, Twitch
---
sources: DApp Radar, Bloomberg
author: mnmansha
Disclaimer: This article is provided for informational purposes only. It is not offered or intended to be used as legal, tax, investment, financial, or other advice.