Quick Summary
Okay Bears have created a lot of hype in the NFT space, rising to a floor price of 229 Solana per one NFT with a 1.6 million SOL trading volume on OpenSea.
Living on Solana blockchain, Okay Bears is a collection of 10,000 unique NFTs, "an extraordinary brand developed by the ordinary people". Okay Bears NFTs were launched on April 26 at the mint price of 1.5 SOL. After several floor sweeps, the floor price of Okay Bears is now at 229 Solana (worth $11,900 as of today).
The Okay Bears project is enjoyably attractive as it provides a jolly environment for its community to grow together. The projects have molded the motto WAGMI (We're All Gonna Make It) to WAGBO (We're All Gonna Be Okay). These facts hint at the project's lead intentions to engage the Bear Community in a relaxed and vibrant environment, "Come unrefined, as long as you're kind."
related: Bored Ape Kennel Club: Companions for Bored Apes
Okay Bears NFTs
The team behind Okay Bears is exceptionally creative regarding the project's representation as a whitepaper and website. The website is very interactive, and the project offers more than just a road map – a blueprint. The blueprint includes various venues, as shown in the image below, and each of these contains different future goals.
Okay Bears, Not Okay Bears, And OpenSea
Okay Bears trading volume has exceeded over 1.6 million SOL after being listed on Opensea – probably the most famous Solana-based project. As Opensea recently included the SOL blockchain support on its platform, traders were not very familiar with it. Taking advantage of Okay Bears' popularity, someone listed these NFTs on Opensea as "Not Okay Bears" on the Ethereum blockchain.
People who preferred Ethereum blockchain over Solana and enjoyed the joke started buying these copycat NFTs. Opensea had to delist the Not Okay Bears NFTs from its platform on frequent complaints and criticism. Reuploading NFTs is not a good precedent (even ethically) to follow. The delisting of these NFTs was a win for Solana as Ethereum's competitor was removed by Opensea.
Okay Bears: The Next BAYC?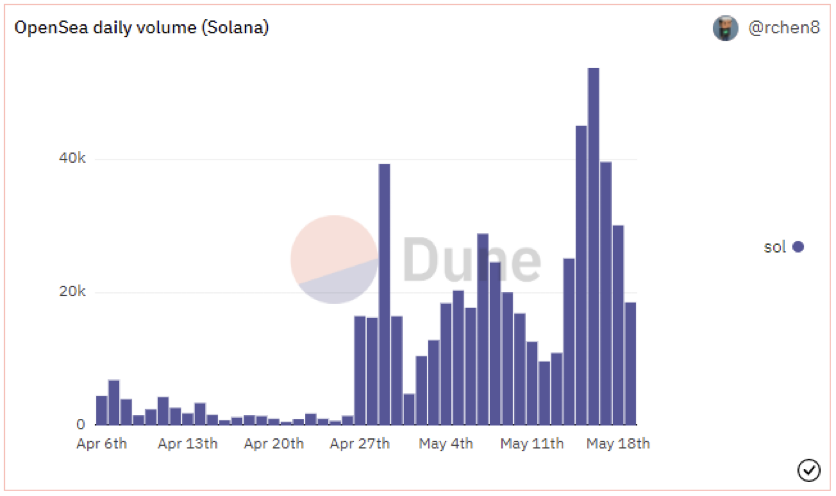 Okay Bears and Bored Ape Yacht Club is a foreseeable emerging war, and the debate goes on if Okay Bears are the next BAYC NFTs? Ethereum-based NFTs have always been at the top, and almost all good project NFTs are minted on ERC protocols. However, this time Okay Bears dethroned Ethereum-based NFTs, and all the Okay Bears sold in 24 hours with a trading volume of 147,161 SOL.
As evident from the Opensea blockchain data below, the SOL activity peaked when this project was launched, on April 25. Interestingly, the number of transactions on Solana spiked at the same levels.
Conclusion
Market sentiments about the project are positive, and as the project has ample community support, it will be unwise not to plan anything for the future. As revealed in a tweet by the Okay Bears, the co-founder has gathered the team to plan for the next 12 months to keep the hype up. As far as the debate is concerned, the communities of both projects speculate on their projects in their own way. We can conclude from the above discussion that the Okay Bears project is as dear to Solana blockchain as BAYC is to the Ethereum blockchain.
more to read
Heavenland: Futuristic Solana-Based Game For Dreamers
Journey Into The Bloxverse And Explore Web3
Elf Matrix: Pokemon & CryptoKitties Inspired NFT Game, But Better
---
Follow NWN: Twitter, Instagram, Telegram, Tiktok, Youtube, Twitch
---
sources: opensea, dune, nftstats
author: mnmansha
Disclaimer: This article is provided for informational purposes only. It is not offered or intended to be used as legal, tax, investment, financial, or other advice.