Quick Summary
DeRace is an NFT horse racing game where you can participate in horse races, breed NFT horses, host races in your own NFT hippodrome and profit while doing all that.
DeRace wants to disrupt three multi-billion-dollar industries at the same time: video gaming, horse racing and gambling. They see an opportunity in many operations in these sectors.
---
Non-fungible tokens (NFTs) have come a long way to prove their position in the blockchain world. Their usage is going well beyond just being art pieces. In the last few months, gaming NFTs are gaining one of the biggest attention. For some people, it seems like now it's the time to get in and buy NFTs to not only earn cryptocurrencies by playing, but by an increase in the value of NFTs. Will NFTs of DeRace increase in value? What's this game like? Let's have a look.
DeRace – Horse Racing
DeRace is a complete NFT horse racing ecosystem where you can participate in horse races, breed NFT horses with unique characteristics, host races in your own NFT hippodrome, and earn profit while doing it. Users recently had their first chance to have a look at the game, but it's not running yet.
They plan to start beta testing very soon – in Q4 2021. Many games are just starting out, so 2022 looks pretty exciting as other NFT games, such as Kaby Arena or CyberTrade should also be ready to be played in 2022.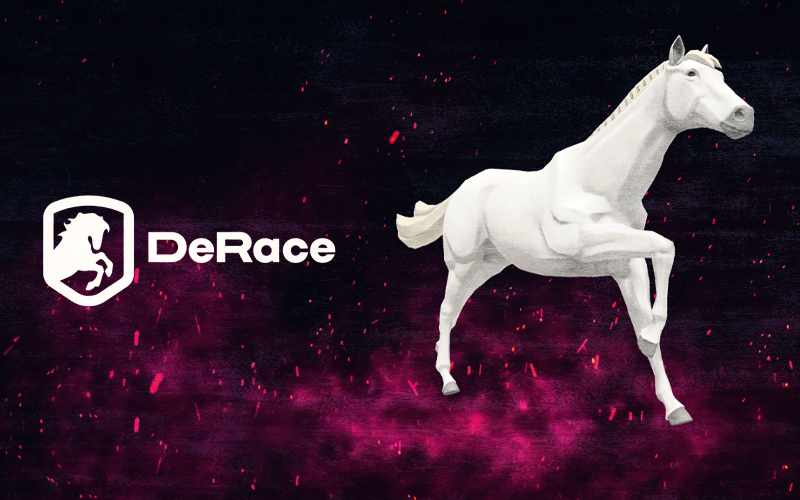 DeRace wants to offer players totally new possibilities. This versatile horse racing universe will allow its users to make money out of every move – breeding, horse-trading, racing or betting. This new NFT gaming industry is about to be more transparent, and mainly decentralized.
How's DeRace Unique?
Derace wants to tackle and disrupt three multi-billion-dollar sectors simultaneously: video gaming, horse racing and gambling. The project sees a massive opportunity in the lack of video games with gambling features. At the same time, horse racing suffers from corruption scandals and a lack of digitalization. Furthermore, people have lost trust and interest in centralized gambling solutions due to slow transaction settlements. The combination of cryptocurrencies, NFTs and blockchain will solve all of these issues thanks to the right implementation by Derace.
Derace proposes a personalized gaming experience that is 100% fair and transparent. Players aren't restricted to being spectators but instead take quite literally ownership of the process by purchasing unique NFT horses. This results in a personalized gaming and gambling experience free from regulators and bookmakers banning players, while also offering cheaper and faster transactions.
Founders of DeRace
The whole team of Derace comes from Lithuania. Adomas Juodišius is the project's CEO. Before that, he was the founder and CEO of Media Bubbles, a Vilnius-based marketing agency that provided e-commerce stores and other web-based platforms with a digital presence, web architecture and security solutions, and digital marketing. The team also consists of two advisors, including Hassan Sheikh, the co-founder of DAO maker, and angel investor Michael Kam, co-founder of the Asia-based blockchain VC fund Double Peak.
Token Information (DERC)
DeRace Coin is a utility token with a ticker DERC, and a total supply of 120M tokens, initially releasing 17,460,000 tokens. Currently, the market cap of DeRace is around $81 million (the initial market cap was less than $1 million) and the price of the token is $3.5. The initial price of the token was set at $0.05, so the increase in the value of this project is tremendous. If the game proves to be as good as it looks, the value of the token could grow much more.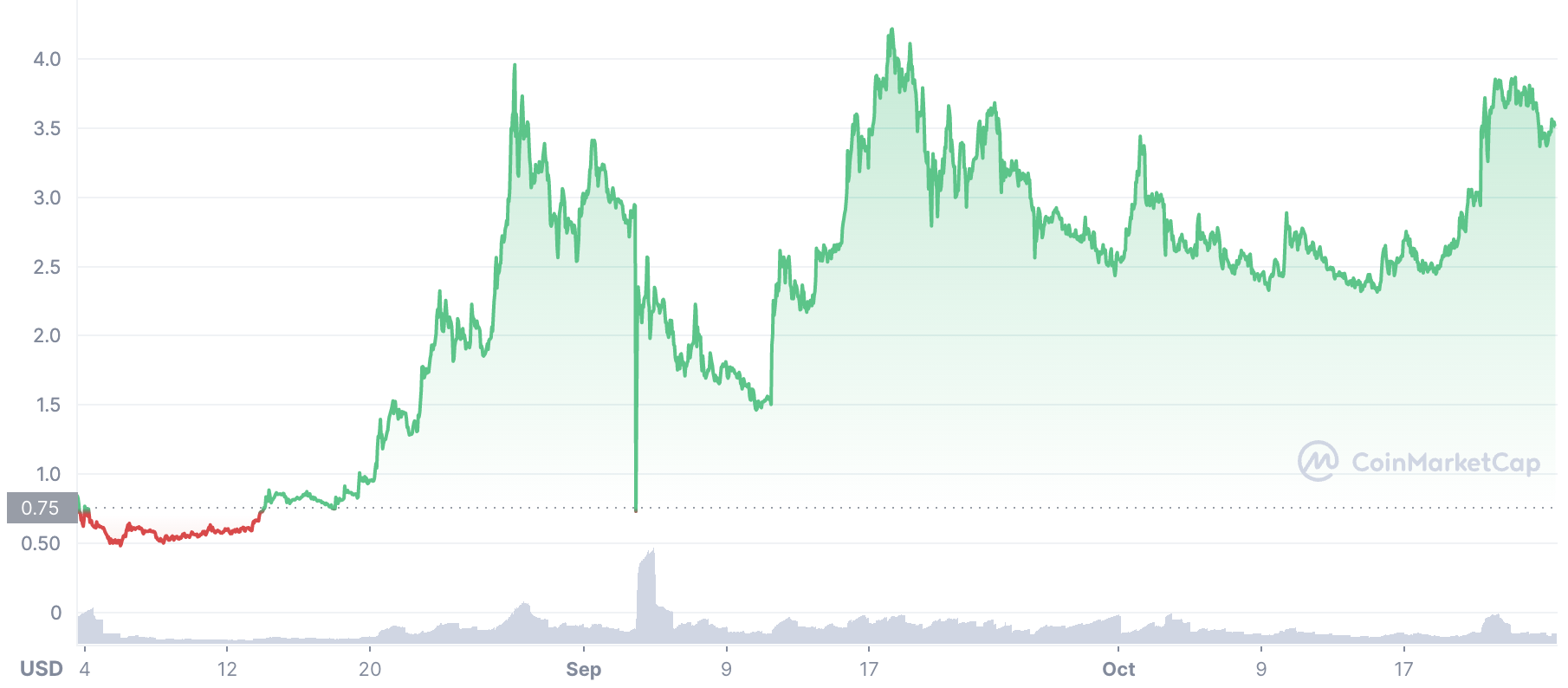 Conclusion
DeRace is one of the most interesting NFT gaming projects in 2021. The game didn't even start and people could already profit on their token DERC, which greatly increased in value. However, when the beta testing phase starts, the token could rise even more as the interest of people is high in this game. NFT games don't stop to surprise and gain huge attention from every side. DeRace could be one of the future leaders in the mentioned sectors, but, of course, everything takes time.
more to read
Now You Can Buy Colors As NFTs!
Sotheby's Invests in Crypto For the First Time
---
sources: medium, cryptobullsclub, coinmarketcap
Rene Remsik
Disclaimer: This article is provided for informational purposes only. It is not offered or intended to be used as legal, tax, investment, financial, or other advice.