Quick Summary
Samoyedcoin is the most popular meme coin on the Solana blockchain with its very own NFT collection. SAMO plans to build a community like no other while exploring the potential of Web3.
Cryptocurrencies are getting new faces and identities every now and then, however, one of the latest trends is meme coins. People love meme coins! Everyone already knows Dogecoin or Shiba Inu as these coins are in the TOP 20 cryptos according to their market cap. However, there is a number of new meme-oriented tokens with better ideas, branding, and a much much lower market cap. Today, we'll take a look at Samoyedcoin (SAMO).
related blog: Is This The Next 100x Meme Coin?
What Is Samoyedcoin
Samoyedcoin (SAMO) was created in honor of crypto entrepreneur Sam Bankman-Fried (founder of FTX) and Solana co-founder Anatoly Yakovenko, amid the emergence of "memecoins" in 2021 and quick adoption of the Solana blockchain. Samoyedcoin can be considered the next-gen meme coin running on the Solana blockchain.
SAMO pivoted into an experimental Web 3.0 community coin focused on building out a community like no other, seeing the potential of online communities in a Web 3.0 space, the advantages of Solana, and the influence dog coins have in onboarding new market participants, marketing their underlying Layer-1 blockchain, and infiltrating modern-day culture.
At its core, SAMO is a new digital asset that supports a community dedicated to onboarding Solana users, educating market participants, forging personal bonds, and assisting one another in navigating life. The project strives to be more than just the quickest, most efficient, and environmentally friendly dog coin in the game; they aspire to be Solana's Ambassador.
About The Dog Behind The Project
The Samoyed is a dog breed that originated in Eastern Europe. Because of its fluffy white coat and pleasant nature, it is easily recognized and appreciated. The Samoyed is one of the "14 ancient breeds" having a genetic composition close to wolves, which many people are unaware of. However, the breed is well-known for being one of the most gregarious, loyal, intellectual, kind, family-oriented, and vocal breeds in existence, all of which are in keeping with the Famo Samo.
The Samo Famo is basically a project's vision, mission, and strategy:
The SAMO Vision: Accelerate the adoption, development, and growth of the Solana ecosystem.
The SAMO Mission: Establish Samoyedcoin as Solana's ambassador by pushing the limits of what's possible for a Web 3.0 community.
The SAMO Strategy: Provide market participants with the knowledge, resources, and community to better navigate Solana, crypto, and life.
SAMO NFT Collection

In January 2022, the project released its first NFT collection of 5,525 randomly produced bespoke designs Samos. At a mint price of 1 SOL each, the entire collection sold out in 7 minutes. Each NFT depicts a lovely Samoyed dog with a mix of distinct characteristics and as much personality as our fluffy white friends.
Each NFT signifies a commitment to onboarding and teaching the next generation of Solana users, as well as assisting those who are developing on the Solana blockchain. You can get SAMO NFTs on Solanart or FTX. SAMO NFTs have a volume of almost 12K SOL with a current floor price of 2 SOL per piece.
Token Information (SAMO)
SAMO has been released in May 2021 when the whole crypto market has been bleeding. However, as the whole market recovered, SAMO was able to skyrocket by 100x from $0.002 to $0.2 in a matter of only a few months! Currently, the token has a $60 million market cap with a multi-million dollar trading volume.
In April 2021, SAMO was created with a max supply of 14 billion SAMO. A total of 9.254 billion SAMO were allocated to be burned over the course of 16 months. This means that come August 2022, SAMO will have a max supply of 4.746 billion SAMO; no more SAMO will ever be created. The coin is listed on some of the most prominent centralized and decentralized exchanges, such as Gate, MEXC, OKX, Raydium, etc.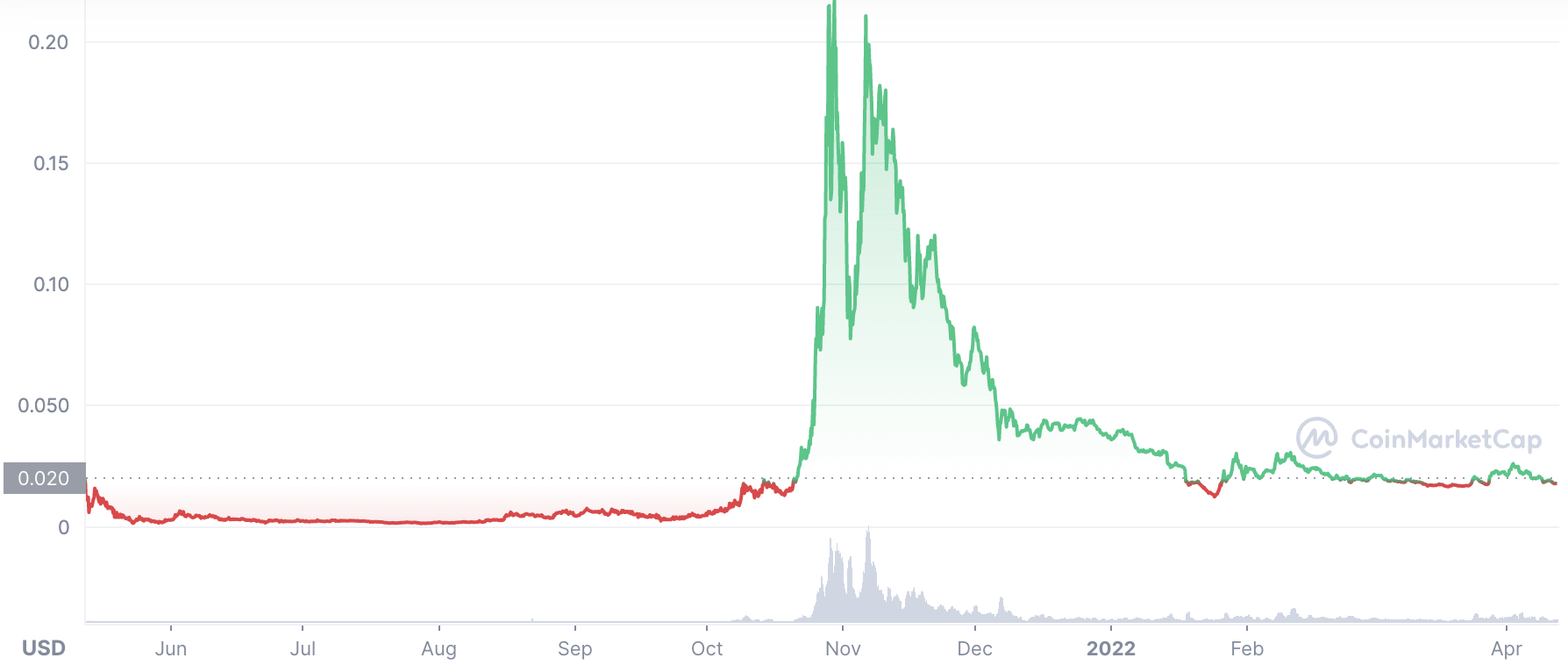 Conclusion
We think Samoyedcoin is the next generation of meme coins because of the rise of NFT and crypto projects on the Solana blockchain, which allows much faster and cheaper transactions than its competitor, Ethereum. While the whole crypto market is down at the moment, there is a bright future ahead for these kinds of projects once the uptrend starts again.
Follow SAMO Here: Website | Youtube | Medium | Twitter | Instagram | Discord | Merch
more to read
TOP 3 Upcoming Solana Utility Projects
How To Buy Crypto In 3 Minutes Or Less
---
NFT World News Social Media: Twitter, Instagram, Telegram, Tiktok, Youtube, Twitch
---
sources: coinmarketcap, samoyedcoin, medium, twitter
author: Rene Remsik
Disclaimer: This article is provided for informational purposes only. It is not offered or intended to be used as legal, tax, investment, financial, or other advice.