Quick Summary
Sollamas are a collection of 8,888 unique NFT llamas with over 165 traits built on the Solana blockchain. Their trading volume exceeded $10 million on Solanart platform since their launch.
Non-fungible tokens (NFTs) don't stop to amaze with their popularity and crazy prices. Many new projects are launched on a regular basis, however, Sollamas is one of the best-selling NFT projects on Solana to this day. Let's have a look at why.
related: 11 Year Old Boy Sold Out His First NFT Collection
Sollamas Explained
Sollamas are a collection of 8,888 uniquely collectible llamas that has been launched in August 2021. All of them are special as there are over 165 unique attributes across 17 different categories from backdrops to mouth accessories. Attributes are also ranked from unusual (lowest rank) to artifact (highest rank).
The llamas were created on the Solana (SOL) blockchain and sold out within minutes of the launch. The Melbourne-based team generated over US$2.5 million in their NFT sale, however, there were some problems with the launch.
The launch of Sollamas did not go smoothly as expected, with some users reporting that they were receiving more llamas than they minted and some didn't receive a llama at all despite paying 4 SOL to mint it. The developer decided to airdrop Gen 2 Llamas to those who minted and didn't get their Llama. They also ran a buy-back program for those who did not want the Gen 2 Llama.
Despite these uncommon problems, Sollamas are one of the best-selling NFT projects on the Solana blockchain with over 94K SOL trading volume and a 0.58 SOL floor price. This trading volume is more than $10 million (at the time of the writing – 8/2/2022) and Sollama is worth at least $60.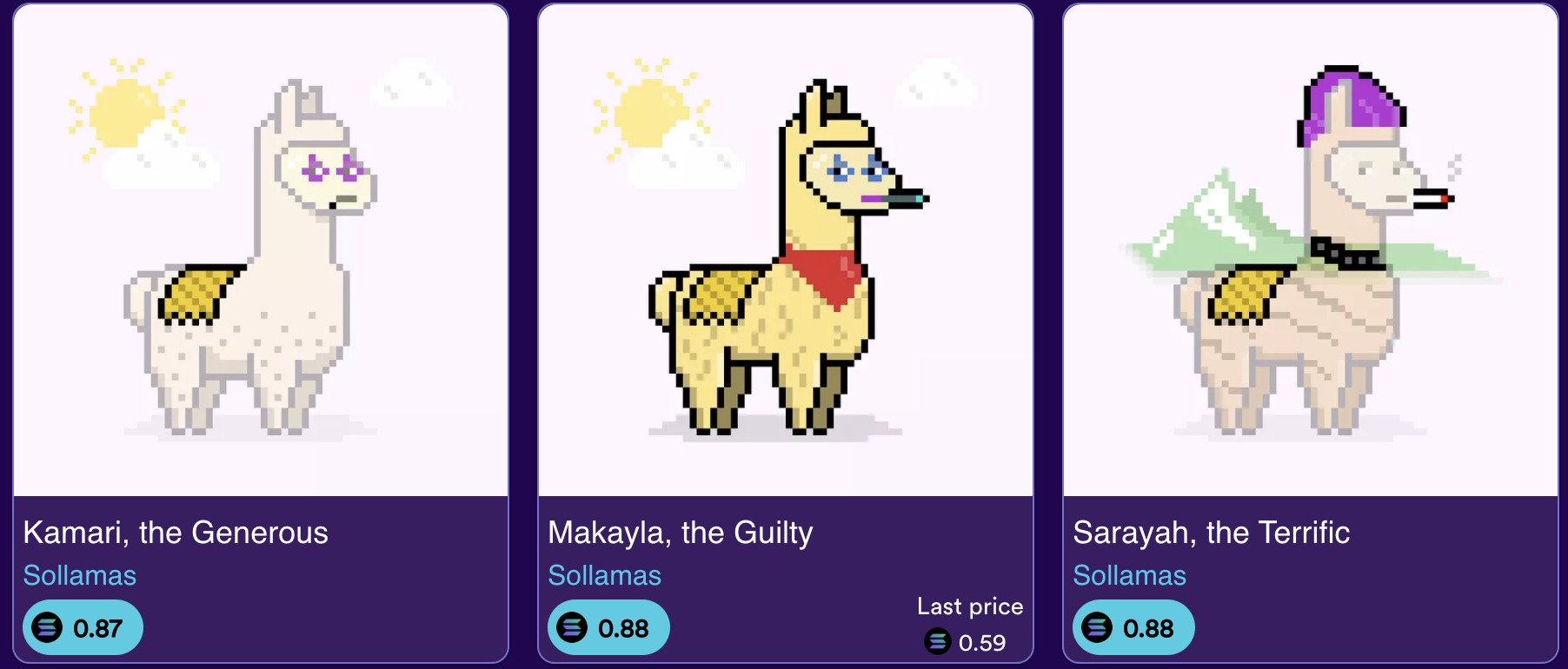 Conclusion
Sollamas is undoubtedly one of the most successful NFT projects on the Solana blockchain with very cool art and huge trading volume, reached in just a half year. But the important question is, what's next? If you want to know where this project is going, head over to their website and check out their roadmap.
more to read
Floki Inu Created Rare Gemstone NFTs
OVR Is Launching Map to Earn Feature
FTX Will Help Issue NFT Tickets
---
NFT World News Social Media: Twitter, Instagram, Telegram, Tiktok, Youtube
---
sources: sollamas, chaindebrief, solanart, cryptobriefing
author: Rene Remsik
Disclaimer: This article is provided for informational purposes only. It is not offered or intended to be used as legal, tax, investment, financial, or other advice.