Quick Summary
Harmony is a blockchain platform solving the problem of scalability and decentralization. It's a successful project with a 2-second transaction finality and 1000 times lower fees than ETH.
Cryptocurrency space is bigger than ever before and only the smartest projects will survive. Some crypto projects such as Ethereum are great but they are not so fast and they're expensive to use. That's where Harmony comes in and wants to solve the problem of scalability and decentralization as well as many other important aspects. Let's dive in.
you might wanna read this: Beeple & His Latest NFT Artworks
Harmony Blockchain Explained
Harmony (ONE) is a blockchain-based platform that promises to solve the problem of scalability and decentralization without abandoning either. This project has been launched through Binance's initial exchange offering (IEO) in May 2019. Harmony is a blockchain platform designed to facilitate the creation and use of decentralized applications (DApps). The network aims to innovate the way dApps work by focusing on random state sharding, which allows creating blocks in seconds.
The project has been built with the motto "decentralization at scale" in mind, emphasizing data sharing and the construction of fungible token and non-fungible asset marketplaces. Harmony also promises to give high throughput with two "lows": latency and costs. They're expected to put the platform at the center of efforts to establish the groundwork for future decentralized trustless economies when they're combined.
Moreover, Harmony provides investors with access to an ecosystem that will allow the firm to be adopted across a wide range of industries, with a focus on data sharing, decentralized marketplaces, supply chain monitoring, ad exchanges, credit rating systems, and gaming. One of the biggest benefits of Harmony is that its interoperability frees users from being locked on a single platform. The future of web3 is a multi-chain ecosystem, and Harmony's bridges can connect any Proof-of-Work (PoW) and Proof-of-Stake (PoS) chains.
Token Information (ONE)
The Harmony's token, ONE, is utilized as a stake in the Harmony consensus model. Holders can earn block rewards and be rewarded for keeping the system running smoothly. The Harmony ONE token is used to pay for all platform activities and amenities, including voting, transaction fees, gas fees, staking and earning rewards. ONE had a dynamic inflation schedule up until March 2020. Later, the rate of inflation was changed to a fixed annual rate.
Harmony is an open and fast blockchain, featuring a mainnet that runs on an Ethereum (ETH) network with 2-second transaction finality and 1000 times lower fees than ETH. ONE token currently has a $2.1 billion market cap with significant trading volume. The price exploded in 2021 from just half a cent to around $0.35 which makes this cryptocurrency one of the most successful projects of 2021. If you want to trade ONE, it's listed on the most prominent exchanges like Binance, KuCoin, Gate, Huobi, and many more.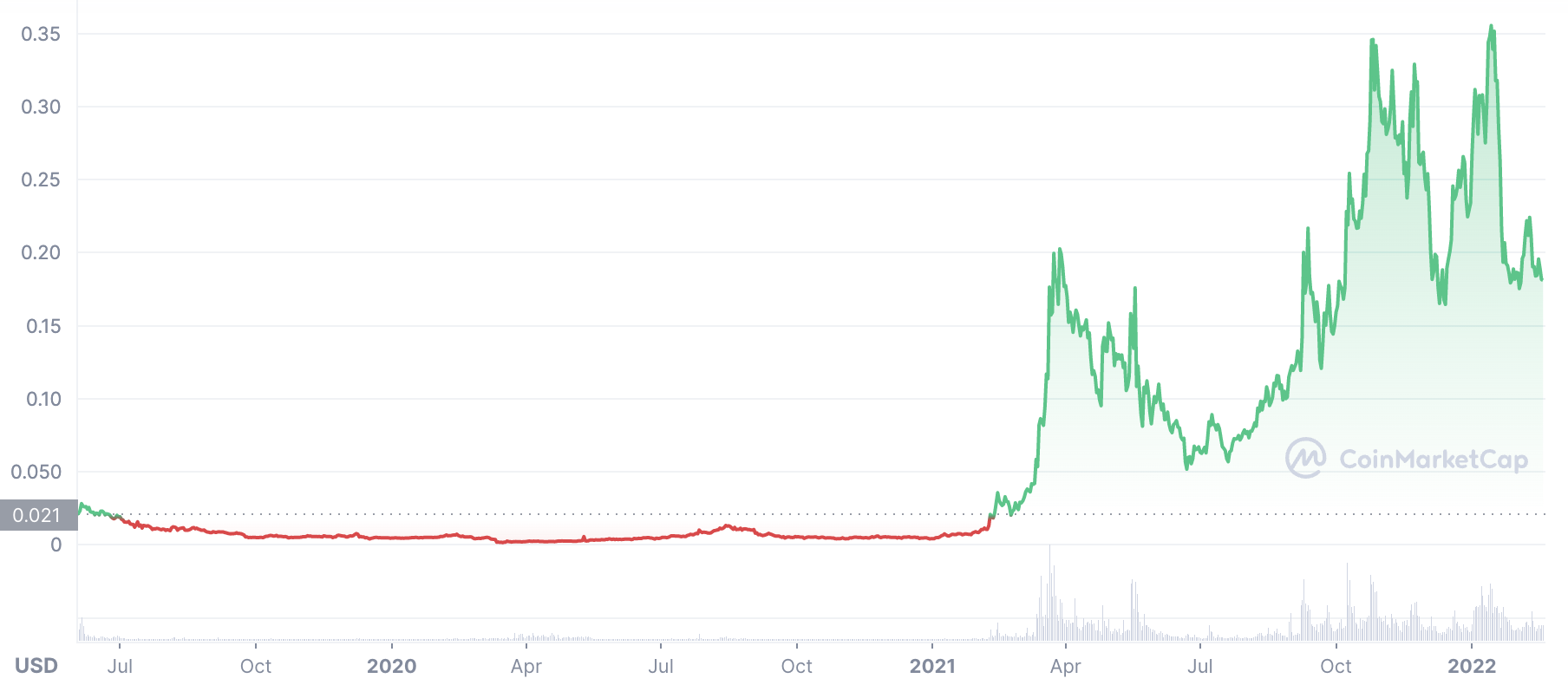 Conclusion
Despite the fact that considerable work remains to be done, the Harmony Project has been hailed as a solution to inadequate scaling and interoperability, as well as a beneficial basis for DApp developers looking to scale their apps and transactions. Harmony wants to be a leading crypto network known for its speed and efficiency, and it's well on its way. Low gas and transaction costs are delivered on the platform's promise.
more to read
YouTube Will Include NFTs In Creator Tools
Russia is Recognizing Cryptos as a Currency
Manchester United Has Signed A sponsorship With Tezos
---
NFT World News Social Media: Twitter, Instagram, Telegram, Tiktok, Youtube
---
sources: coinmarketcap, harmony, cointelegraph
author: Rene Remsik
Disclaimer: This article is provided for informational purposes only. It is not offered or intended to be used as legal, tax, investment, financial, or other advice.