Quick Summary
The Crazy Lizard Army is an NFT collection of 10,000 unique lizards with 150+ traits. They launched in the summer of 2021 and reached a trading volume of $7.5 million on Opensea.
Non-fungible tokens (NFTs) are a new way to show creativity to the world and in this blog, we'll have a look at one of the most recent successful NFT projects out there – called Crazy Lizard Army. And yes, they are worth millions of US dollars!
you might wanna read this: 3 Most Anticipated NFT-Crypto Projects In 2022 (part 4)
Crazy Lizard Army (CLA)
The Crazy Lizard Army is made up of 10,000 unique lizards as NFTs. You may become a soldier in the CLA army when you hold a lizard. In the CLA army, there are all sorts of Lizards, some are good, some are evil, and some are CRAZY! Who knows which you will meet? 
10,000 Crazy Lizards are programmatically generated by a random combination of 150+ traits. These traits make each crazy lizard unique and identifiable. A part of the great features of this project is a crazy evolution lab that can turn your 3 lizards into a cool dragon! 
CAUTION: The evolution is irreversible, the three Lizards which are used to evolve will disappear forever. So please think twice before your evolution decision!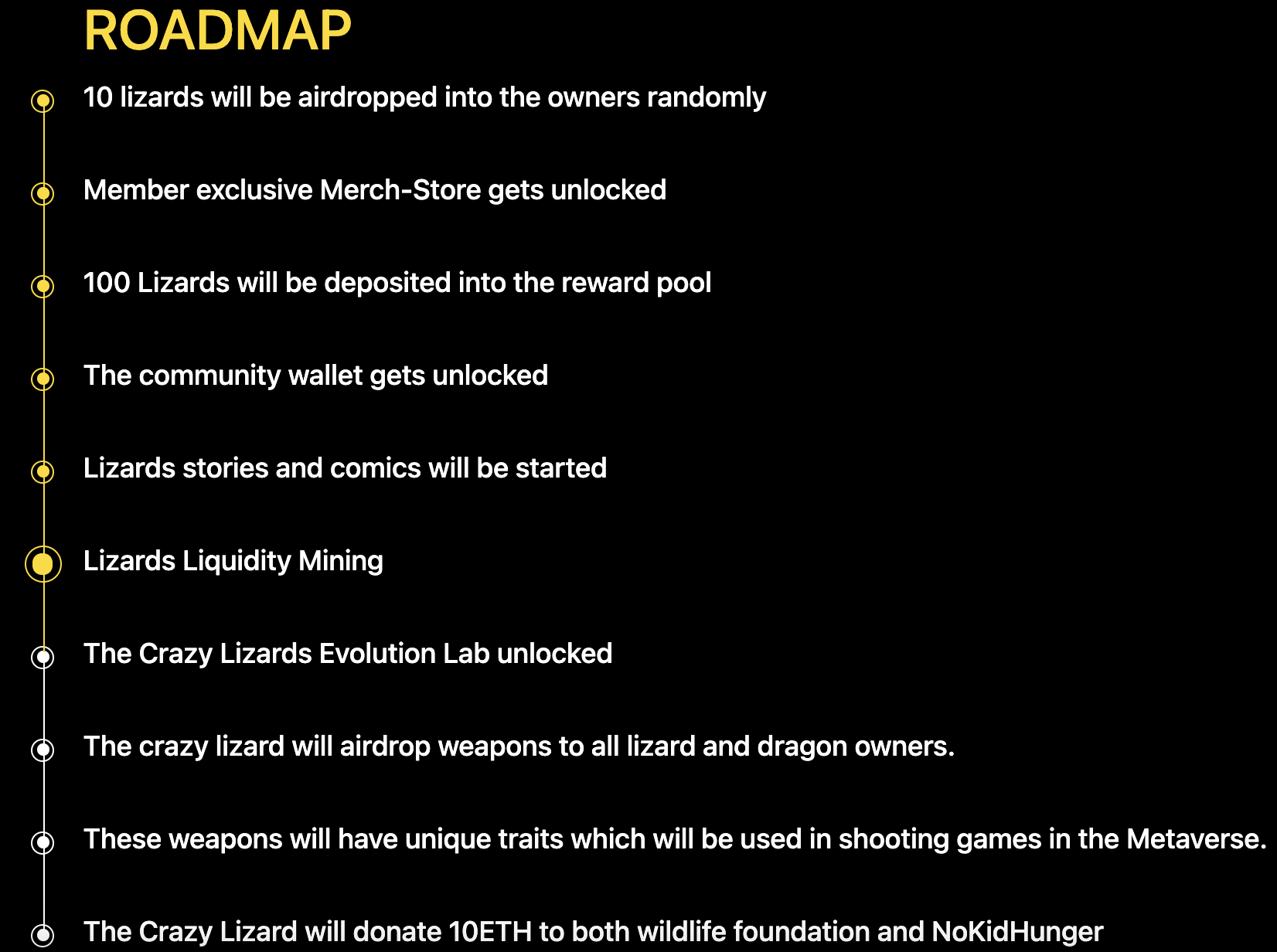 This lizardish NFT collection has been launched in July of 2021 and in just a half year, it's got a trading volume of $7.5 million (2,500 ETH) on OpenSea till this day! Now, the floor price for one CLA NFT is at 0.04 ETH.
All the lizard holders can join the Lizard Army governance and vote. We will distribute 20% of the transaction fee into the community wallet. Which will be used for operating and buying up the floor for giveaways.
Conclusion
CLA showed some exciting artwork and while some lizards look cool or badass, all of them are certainly crazy! There are several million-dollar NFT projects but these lizards are very original compared to all the punks and apes out there. If you like this collection, make sure to check their website.
more to read
Solice – The Future Of VR Metaverse Experience
---
NFT World News Social Media: Twitter, Instagram, Telegram, Tiktok, Youtube
---
sources: crazylizardarmy, opensea
author: Rene Remsik
Disclaimer: This article is provided for informational purposes only. It is not offered or intended to be used as legal, tax, investment, financial, or other advice.