Quick Summary
The connection of blockchain gaming and NFTs is bringing brand new opportunities. These projects are the most anticipated for this year: Phantasma, Danger Valley and Alien Worlds.
The creation of non-fungible tokens (NFTs) and blockchain gaming projects started to go mainstream in 2021 and now there are tons of projects that are joining this trend. This huge trend helps adapting blockchain technology with the utilities of cryptocurrencies and NFTs. Now we're gonna have a look at one of the most promising NFT-crypto projects for 2022 – Phantasma, Danger Valley and Alien Worlds.
if you missed previous parts, check out part 1 and part 2 here.
Phantasma
Phantasma has been around for several years now, but it only blew up one year ago, at the beginning of 2021. Now there are big expectations for this project. This project is a layer-one blockchain protocol that specializes in the creation of SmartNFTs and decentralized gaming applications. As blockchain gaming and NFTs went mainstream in 2021, the popularity surge reflected in the price of their token SOUL.
Phantasma is the technological backbone of the future of gaming as it enables a silky smooth user experience while increasing developer revenue and empowering gamers through true digital ownership. Besides combining the best from the gaming sphere and NFTs, Phantasma is built around a dual token economy consisting of SOUL and KCAL.
Moreover, the project is offering staking and farming. You can buy a SOUL token, get a Phantasma wallet and you are ready to stake. This company is very complex and deserves the recognition it acquired since its launch. Furthermore, Phantasma provides cross-chain interoperability with multiple blockchain networks including Ethereum (ETH), Binance Smart Chain (BSC) and NEO.
Several projects have been launched on Phantasma, such as the role-playing card game Blood Rune, the mobile game Ghost Festival and the NFT marketplace GhostMarkets. There's also a game 22 Racing Series with NFT cars and an amazing racing gaming experience. It's expected that more projects will launch on Phantasma later on.
Token Information (SOUL & KCAL)
The SOUL token has been launched in the half of 2018 in a bad bear market in the cryptocurrency world, so the value of the token declined rapidly. However, it skyrocketed in 2021 and grew by thousands of percent thanks to the increasing popularity of the project. There are 104,060,056 tokens in total and they are all circulating with a current market cap of $300 million. You can trade SOUL on KuCoin, Gate or through DEXes like Uniswap or PancakeSwap. The token seems a little overvalued at the moment but if it continues to conquer the NFT gaming market, it will go even higher. 
There's also a second token to this project called Phantasma Energy (KCAL). There are 71,072,572 tokens in total and they are all circulating with a current market cap of $11 million. This token is considered secondary as it has a smaller market cap and it's only available on the mentioned decentralized exchanges.
Danger Valley
Danger Valley Ducks is a Solana-based NFT collection that contains 7,777 Ducks. It was launched on December 18th and there was already a trading volume of more than $1 million (7.6k SOL) on the Solanart website. Holders of the Ducks receive a lot of benefits on the Danger Valley platform. NFT artworks on Solana are getting more popular than ever and Danger Valley Ducks are amongst them. The minting price was 0.77 SOL and now the floor price is 1.2 SOL.
Besides being a successful NFT project, they decided to build a gaming platform on Solana blockchain, where users can play with each other where every move is a blockchain transaction. Each move will have a "proof of move" on the Solana blockchain, making it a verifiable source of playing. That definitely sounds like the future of fair gaming!
All the users who decided to get Danger Valley NFT will have priority access to the Quickpot game and special merch that should drop this year. There will also be a game called Quack Chess with the possibility to bet with cryptocurrencies in chess and the winner takes all the money, and that's not everything. There are many more plans to build this "Duck-gaming infrastructure".
Alien Worlds
Alien Worlds is a decentralized NFT metaverse, where players compete for scarce resources and Trilium (TLM) in a stimulated economy centered around planetary worlds. Due to this, Alien Worlds also has a decentralized finance (DeFi) element to the game as players advance by staking TLM and using TLM to vote in Planet Decentralized Autonomous Organizations (PDAOs).
This project is one of the biggest Play-to-Earn (P2E) games currently in existence with many hundreds of thousands of accounts so far. However, what most people don't know yet, is that the current state of the game (the mining aspect) is just the first step in Alien Worlds' roadmap.
Game Basics

It's an economic layer to distribute the TLM token and get people into the metaverse. Alien World council is about to launch which is one DAO per planet in the game that will have a huge ability to impact the Alien World metaverse. Alien Worlds allow the players, called "explorers" to earn monetary rewards through gameplay or participation in Planet DAOs.
There are six different levels of rarity for Digital Items in Alien Worlds – Abundant, Common, Rare, Epic, Legendary and Mythical. There are also 5 different levels of shininess – Stone, Gold, Stardust, Antimatter and XDimension. Lower level items can be forged together to increase their shine and attributes, except in the case of XDimension NFT game cards which are only found by opening a rare pack.
Token Information (TLM)
Trilium (TLM) is the cross-chain ERC-20 / BEP-20 / WAX cryptocurrency that connects the Metaverse and allows for the transfer of value and voting in Planet DAOs. This token has been launched in April 2021 and it was very successful at the start. However, TLM declined dramatically over the next months.
The project now has currently a $153 million market cap and a max supply of 10,000,000,000 tokens (9% circulating). There's a huge interest in this token as it has an 8 or 9-digit trading volume on regular basis. It's listed on the biggest crypto exchanges in the world like Binance, KuCoin, Gate, MEXC, etc. Alien Worlds seem pretty underrated at the moment as the token is down around 97.5% from its top.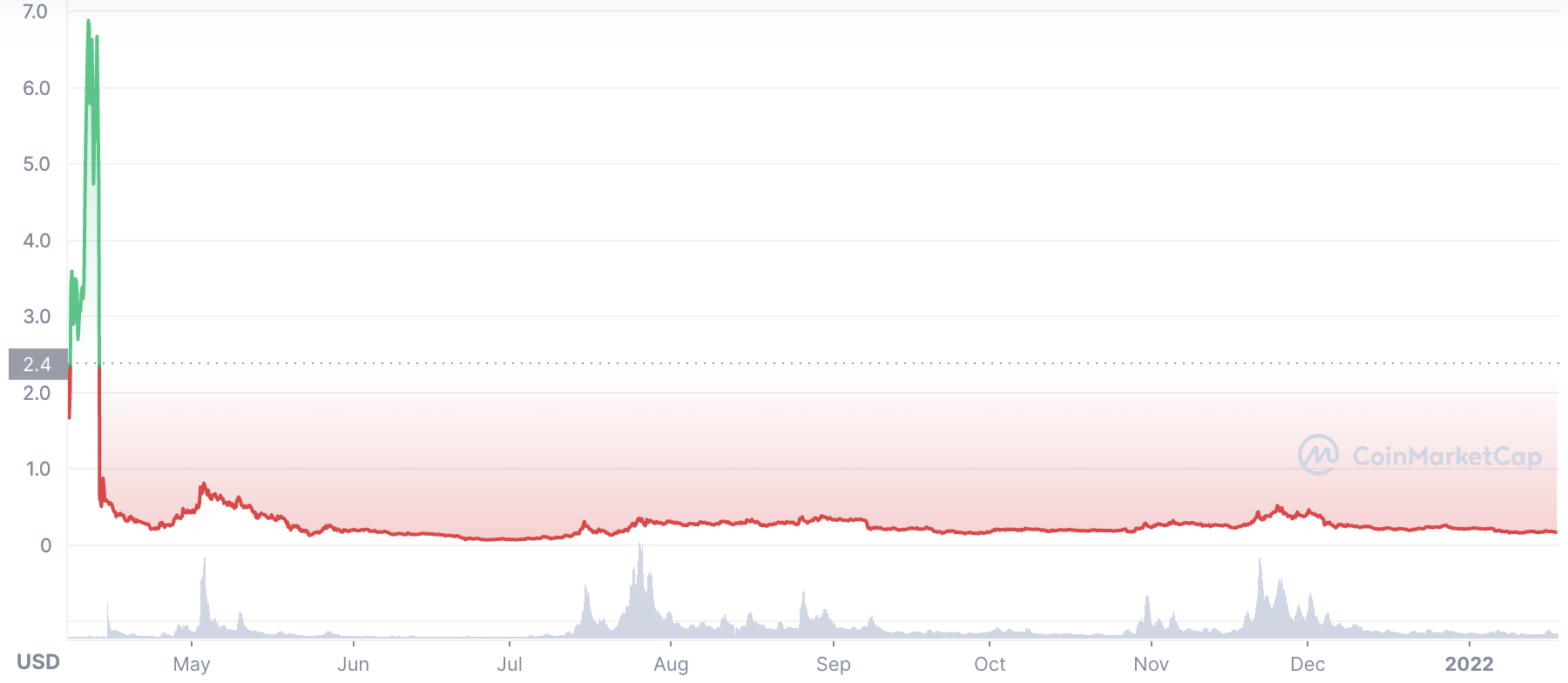 Conclusion
Each project has a great public interest and millions of dollars run through these projects on regular basis. It's not guaranteed that they will all succeed but if people continue to explore and use these projects, they will rise in value more in the future.
more to read
These NFT Ducks Cost More Than Your Paycheck
These NFT Aliens Are Worth Millions!
---
NFT World News Social Media: Twitter, Instagram, Telegram, Tiktok, Youtube
---
sources: coinmarketcap, cointelegraph, phantasma, dangervalley, cryptoslate, alienworlds
author: Rene Remsik
Disclaimer: This article is provided for informational purposes only. It is not offered or intended to be used as legal, tax, investment, financial, or other advice.